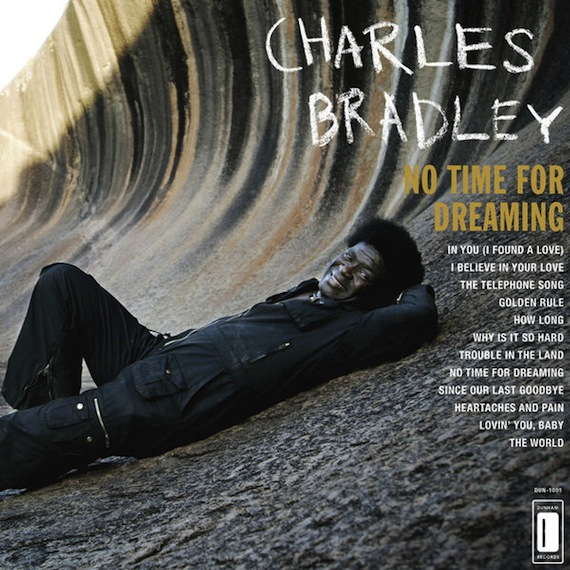 Lee Fields, Sharon Jones and Charles Bradley. All three of these names are grouped into what is collectively known in 2011 as the retro-soul movement.   Not that this style of music ever really went away, but on a commercial level it did find itself largely supplanted in the early 80s by slick production and a gloss that had little, of anything, to do with STAX, Muscle Shoals and the other seminal core scenes originally associated with the genre. But like anything, if one pulls the curtains back a bit, it's not hard to find the regional pockets of soul that existed sub rosa and continued to do there thing as if Anita Baker never happened. (And thanks to the work of a new crop of reissue labels a number of these would-be forgotten artists work is finally seeing the light of day on a much larger scale.)
This week sees the release of Charles Bradley's No Time For Dreaming on the burgeoning Dunham Records—an imprint of Brooklyn's Daptone Records, the label largely credited with this latest resurgence of classic soul music. Not unlike the Fat Possum labels blues run in the 1990s, anything associated with Daptone comes with both the label's seal of approval and the knowledge that the contents will be bolstered sonically with a certain aesthetic. Bradley's debut is no exception.
At 62 Bradley emotes with a hard won conviction reminiscent of the southern soul greats whose work originally set the bar four decades ago. Clocking in at 12 tracks just under 45 minutes, No Time For Dreaming embraces a no-frills approach that only compliments and reinforces Bradley's phrasing and delivery. Eschewing unnecessary flash and pageantry the LPs style is more akin to that of an old James Carr or Solomon Burke side than, say, Back to Black.
At 62, with a debut record out, I imagine Bradley would take issue with the notion that 'there are no second acts in American lives.' As he should.
MP3: Charles Bradley :: The World (Is Going Up In Flames)
———————
____________________________________________________________________________________