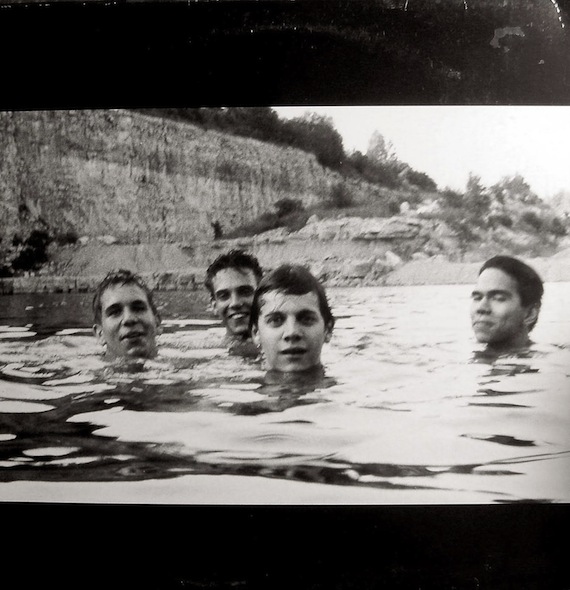 Album artwork: Does it indeed affect our listening experience, and if so, how? Scratch the Surface, a recurring feature on Aquarium Drunkard, takes a look at particularly interesting and/or exceptional cover art choices.
____________________________________________________________________________________
"To get to Utica Quarry you take Interstate 65 north out of Louisville, over the Ohio River into Indiana…In the fall the trees are rich reds, golds, browns."
The above quote is found in author Scott Tennant's 33 1/3 book on Slint's Spiderland. When I came across the passage last December I found myself re-reading it several times as it felt exotic…foreign. It was as if my mind was trying to reconcile the reality of the 'rich reds, golds and browns' of the physical world with the black and white shot that had been imprinted on my psyche 15 years before. Subconsciously, I suppose I expected the world of Spiderland to exist only in black and white.   If you know the album, imagine those first several notes at the beginning of "Breadcrumb Trail." Those notes, in hindsight, felt like jumping off a cliff into the unknown. Ringing stark and cold they, in a matter of seconds, ushered in the tone of the following 39 minutes. A tone so attached and symbiotic to that of its album cover it is difficult to process one without the other.
Spiderland entered my life in the beginning of my junior year of high school. Its aesthetic was unlike anything else I was listening to at the time. Other than the four faces wading neck deep in the limestone quarry on the LP's cover, the only touchstones I had for Spiderland were a handful of other Touch & Go releases; none of whom sounded even remotely similar to Slint. As such, the black and white photograph that served as the album's cover art—taken by Will Odham—acted as sort of visual guidepost. Even so, the band was mysterious; their sound totally alien.
Reflecting on it now I realize it was this exact mystery that colored my listening experience and, in turn, made it that much sweeter. It is an experience that would be very difficult to replicate in this, the post-Internet age.
If "Breadcrumb Trail" is Spiderland's jumping off point and tone setter, then the albums final track—the seven and a half   minute long—"Good Morning Captain" is both its apex and summation.
MP3: Slint :: Good Morning Captain
——————— ____________________________________________________________________________________