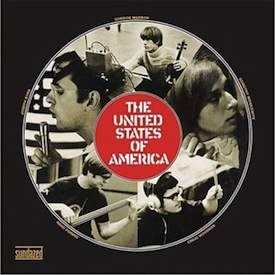 The United States of America album is the product of Joseph Byrd, former FLUXUS member, artist and UCLA instructor who managed to combine experimental art and early synthesizer technology with psychedelic rock. Employing percussion instruments, electric violin and acoustic strings, electric bass, various keyboards, homemade oscillators and ring modulators (with Dorothy Moskowitz's confident soprano) this record shows surprising pop capability for an avant garde project.
United States of America is a pioneering record that is worth your attention. Everyone wouldn't be expected to sit through campy synth exercises like "I Wouldn't Leave My Wooden Wife For You, Sugar," but many tracks hold up as strong experimental rock numbers. It's a must listen for fans of ear candy, or those who love delving into the details. Tracks like the opener, "The American Metaphysical Circus," feature layers of burbly oscillators, organ, calliope, and sound effects or field recordings. Other tunes tear it apart pretty hard for a guitar-less album like "Hard Coming Love" and some more restrained numbers make great careful listening material like the excellent "Cloud Song." Dorothy's vocals are very strong and lead with unexpectedly memorable lines.
The melodies and flow of the record, the sampled recurring themes, and the politically charged lyrics give this album a concept record feel. It was critically acclaimed on its release in 1968 but failed to sell, of course. The band broke up after their masterful debut though Byrd would continue to create experimental music and Moskowitz would eventually sing with Country Joe McDonald.
Sundazed reissued this album in 2008 as a hi-def vinyl LP that came packaged with a repro of the manilla envelope like the original. If this one has been hovering on your list for years, now is the time to pick it up. words/ b mcgrath
MP3: The United States of America :: The American Metaphysical Circus
MP3: The United States of America :: Coming Down
———————
____________________________________________________________________________________