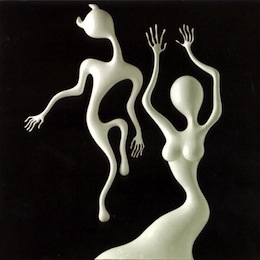 Lazer Guided Melodies, the gorgeous debut album from space-rock pioneers Spiritualized, gets a well-deserved reissue. As unflashy and traditional as the packaging looks it still reminds me of the floating ghosts that inhabit each song, and I imagine those centerpieces to be Jason Pierce and Kate Radley as their relationship is the album's central focus. You can also take comfort in knowing that the only way to properly hear this double-vinyl affair is how Pierce originally intended; four separate pieces of music that cross-fade into chapters, or compositions, each represented on one side of vinyl. This reissued format is a Spiritualized fan's dream, and a chance to catch up with one of the most magnificent albums ever created.
Designing Lazer Guided Melodies in batches was a brilliant move. You can approach the music as a studied listen, and, a collection of songs that hit you in waves or slowly swell into a singular tide of sound. There are tracks that stir emotions and actually sound spiritual — best listened to through a finely-tuned stereo system in dark isolation. The achingly beautiful violin that engulfs you throughout "Step into the Breeze", Pierce's poignant and vulnerable pleas, expressed vocally and through his aggressive guitar chopping on "I Want You", and the explosive climax of slide guitar, furious horns and distortion on the volcanic "Shine a Light", all of which are masterpieces that I honestly don't think Pierce will ever be able to recapture. However, the finale on "Shine a Light" continues to be applauded by fans, and definitely this writer, as a very special moment in music that he'll always be worshiped for.
I can also recall songs that worked incredibly well, and still do, blasted on my car stereo. "If I Were With Her Now" maintains that repetitive and menacing rhythmic pulse with a diversity of sounds (triumphant brass arrangements, plucked guitars and percussion intertwining). "Run" is Pierce interpreting The Velvet Underground, literally at times, with a rubbery and fuzzy bass line holding together a collection of guitars and perfectly placed tremolo effects fluttering across the mix like shooting stars. These uptempo tracks reinforce Spiritualized's mastery of repetition — one of the major themes carried over from Spacemen 3 — followed closely behind Pierce's near-perfect exploration of drone ("Sway") and delicate use of space ("Take Your Time"). It's those aspects, plus the combination of his pop sensibilities, that are developing at this point in his career and well into seminal follow-up albums Pure Phase and Ladies and Gentlemen We Are Floating in Space.
Spiritualized really haven't drifted far from their original model of epic psychedelia, but they've never sounded as glorious and hypnotic as they do here. Lazer Guided Melodies is also the first record I ever bought that forces the listener to experience the entire album from start-to-finish. It's a pain in the ass when you're trying to include a specific track for a mix, but once you've lived with this record for a while it just makes sense to skip the mix entirely and share the entire journey with everyone you know. words/ s mcdonald
MP3: Spiritualized :: You Know Its True / If I Were With Her Now / I Want You
——————
+ Download Lazer Guided Melodies for free via eMusic's trial offer
____________________________________________________________________________________