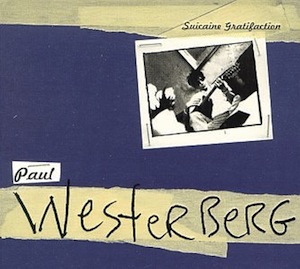 "I didn't start to make a record. I just had no other options. I didn't know what to do with my time. I started playing piano and out of the few things I had written down on scraps of paper started to record little songs in the basement thinking 'well, I'm gonna get off my deal and maybe I'll sign another.' I wasn't sure whether I was gonna make another record or not. This is the only record I could have made even if I wanted to make a more upbeat or more rocking record, I didn't physically, mentally have it it in me to make another record. So, I was encouraged to sort of follow this muse by Gary [Gersh, then CEO of Capitol Records] who signed me at Capitol. And it was great because it's what I wanted to hear. It was where I was at. Some of the labels heard my stuff and were very pleasant but were looking for upbeat dance hits…it's not what I do and it's nice to know there's an audience, at least on the industry level, for what i do." – Paul Westerberg, from Ondi Timoner's documentary on the making of Suicaine Gratifaction.
Paul Westerberg, at least from the common critical and commercial perspective, seemed in a bit of a rut coming off of 1996's Eventually, his second solo album which only sold around half the amount of his first solo outing, 14 Songs. So perhaps it wasn't so much of a surprise when he left his label of more than a decade, Sire/Reprise, and signed with Capitol Records. This was thanks largely to the active courting of Westerberg by Capitol's then CEO, Gary Gersh. "Gary Gersh's commitment as president and A&R guy, who is going to personally oversee my record and my career, was hard to turn down," said Westerberg in an article by Jim Walsh in the St. Paul Pioneer Press in May of 1997. "I mean, I had fans at every other label, but they weren't all necessarily the presidents of the label. I felt that having the most powerful guy at the label interested in my career would be the smart move to make."
Westerberg wasn't wrong. Gersh was, if anything, a known quantity in terms of tracking down artists with artistic and commercial appeal. It was under his tenure as a talent scout for Geffen Records that both Nirvana and Counting Crows were signed. After taking the helm at Capitol in 1995, he had since added Vic Chesnutt, Supergrass, Radiohead, Foo Fighters and Sparklehorse, among others, to their roster. In the same article by Walsh, Gersh said:
"I think artists get into this thing where they have this revered and storied past. Then, when they make their solo records, everybody expects them to live up to their storied past. And Paul is a very accomplished tunesmith and song craftsman. That is what we have to get out in a different way, and we have to stop competing with his past. Nobody could ever be the Replacements again. It's not possible. And there are so many bands that can do the Replacements copy thing better than Paul can right now. Why should he have to do that? He's much too talented to do that."
Having a fresh set of sympathetic ears was on Paul's mind in more ways than one. In addition to jumping onto Capitol, Westerberg's first choice for producer on the new album was legendary producer Quincy Jones. Eventually he would end up with Don Was, a producer known for his work with everyone from Bob Dylan to the Rolling Stones, the B-52's to the Highwaymen. In Timoner's documentary, Was says:
"[Suicaine Gratifaction] is a personal thing, but I saw more his struggle with coming to terms with being this guy from the Replacements. I saw it pertaining more to his role in the music business as being a guy who comes from a band with certain expectations from an audience, the record company, everybody. He's going his own way. It's a declaration of independence, it's just what you want to be independent of. And you can read into that any way you want to because everyone is looking for that."
But almost a year after signing to Capitol, and only eight months before the release of the album, a funny thing happened on the way to a record. Gary Gersh left Capitol Records and, thus, so did Paul's A&R representation. So did, it seems, any real interest in Paul's work. The album wasn't promoted heavily and would rise to its highest place on the Billboard album charts, 104th, in mid-March of 1999 on its way to total sales of only about 52,000 copies, 2/3rds of the sales of Eventually. Within a year, Westerberg and Capitol would part ways, putting an end to his last tenure to date with a major record label.
But what of the album itself? "It was going to be untitled at one time," said Westerberg in the documentary, "and then there was pressure to name it, and I thought, just on the outside chance that it may be nominated for something, I better give it a really impossible title to ensure its fate." This is the album that began the latter-day image of Westerberg as the basement-tapes songwriter, holed up in his home writing songs on a piano. The title, and the album itself, aren't the cheeriest things in the world. "You know, 'Here Comes a Regular' and all that stuff were from the same place that [this album] came. I've just never been there this long and gotten this much out of it…I felt kind of like I was lost in this dark room, and rather than looking for a way out, I kept going deeper and deeper in."
The opening two songs of Suicaine Gratifaction are soft and nearly solo performances, the first with guitar, the second with piano. "It's a Wonderful Lie" seems to celebrate the facade of fame in all its fraudulent glory, the glory of bullshitting your way through things. "Self-Defense," however is another animal entirely. "I was proud, I guess, of the lyrics," said Westerberg, and this album became the one and only Westerberg album (or Replacements album, for that matter) to be released with a lyrics sheet. "And only when you're chased / do you ever run fast. / And it's wrong to commit a suicide. / It's only in self-defense," goes the closing line of "Self-Defense." The piano recalls moments from Westerberg's past – the fractured keys of "The Last" from All Shook Down in particular – and it underscores the song's melancholy perfectly. It's these softer moments that become this album's biggest strengths. The closing "Bookmark" is one of Westerberg's most moving songs, its extended similes ringing emotions across the piano, pedal steel and deep string sounds of the track.
The instruments on this record, not to mention the backing vocals, were provided by a heady array of well-known musicians. In addition to Don Was' contributions on bass, Shawn Colvin and Dave Pirner sang backing vocals ("Born for Me" and "Fugitive Kind," respectively), and Benmont Tench, Greg Leisz and Josh Freese, among others, filled in on instruments. But this bevy of studio craft has an up and a downside. The record is nothing if not impeccably recorded, but this has the negative tendency to buoy songs that aren't that solid to begin with. Despite its clever title and lyrics, "Best Thing That Never Happened" has no business going on a full four and a half minutes. "Final Hurrah," another weak track, has its flaws similarly hidden by the production. Even the seemingly lovely "Sunrise Always Listens" finds itself lacking after a few listens.
The excellent production also, however, sends the bulk of the record, chock full of mostly excellent songwriting, well up the scale. Perhaps this is the production that the over-cooked Replacements album Don't Tell a Soul, similarly plagued with a handful of cast-offs and mostly solid songs, could have used. "Best Thing That Never Happened" finds its antithesis in the track immediately after, the rocking "Lookin' Out Forever," which comes in at just over three and a half minutes and includes an invigorating and economical guitar solo to boot. The whimsical and clever "Tears Rolling Up Our Sleeves" and "Whatever Makes You Happy" are both vintage Westerberg, their playful and mocking puns and imagery a trademark of his best work. Even "Fugitive Kind," a song that would seem far too long at nearly six minutes, manages to stay engaging and fun. In revisiting this album and listening to it all the way through for the first time in awhile, I found myself singing along rather vigorously to that song, a tune I'd long ago dismissed for its overlong runtime. "Ain't got time for you to grab your stuff. / What's flowing through our veins is good enough" is one of those purely Westerbergian turns of phrase.
Suicaine Gratifaction is a complex record. If you know the back story, it's hard not to pull for this record to be better than it ultimately was, to hope that it was a masterpiece that Capitol slept on and that ultimately will find an audience appreciative of its intricacies. In reality, it's another Westerberg record – similar to the previous two in that they are a mix of brilliant writing and a few slipshod numbers; not all that different from most of the Replacements' catalogue either. The nuanced production does let us see the album's songs, in retrospect, as the precursor to Westerberg's lower-fi, basement-recorded, and far stronger work on the 2002 Stereo/Mono album. But in 2000, when Westerberg and Capitol parted ways, it was the last we heard from Paul for awhile. In fact, it seemed for a moment like this might be the last we'd hear from him – the great poet of Midwestern ennui and heartbreak, of hopes and self-deprecation finally silenced, the last chord of the piano seeming to hang there forever. Would it ever sound again? words/ j neas
MP3: Paul Westerberg :: It's a Wonderful Lie
MP3: Paul Westerberg :: Lookin' Out Forever
——————
____________________________________________________________________________________