(Album artwork: Does it indeed affect our listening experience, and if so, how? Scratch the Surface takes a look at particularly interesting and/or exceptional cover art choices.)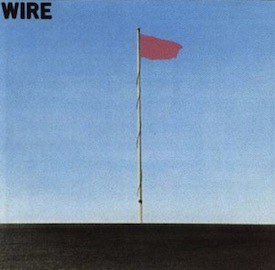 There is a temptation to romanticize: a photograph of a barren flagpole; a pink, painted-on banner waving from the apex; a hazy blue summer sky behind; a simple, black four-letter word in block letters in the upper left corner. It seems like the simplistic cover of some boiling manifesto, of some great divination of the future. The solitary word itself: WIRE. An electronic epistle from some time yet unspooled.
Having not been alive in 1977, it's hard to even imagine what Pink Flag must have sounded like to someone putting it on for the first time. But even when I first picked it up, some 30 years later, the cover told me what to expect. Nothing flashy. Minimal. Spartan. Songs were more likely to speed by in a minute-and-a-half or less than they were to go longer. 21 songs in just under 36 minutes and the cover told it all.
Punk reveled in weird influences. The Ramones owed nearly everything to girl groups and being awkward teenagers; the Sex Pistols to chugging Chuck Berry riffs and a gleeful, if calculated, embrace of self-destruction. Wire took punk's minimalist stance, its defiant middle-finger to over-production, and made it even more sterile, fractured and studied. Even more like a piece of structured art. Though released in the same year as some of punk's defining monoliths, Wire was the very definition of post-punk music.
There were no group photos on the cover, no magazine cut-out ransom note text, no Robert Maplethorpe photos or any of that. Just a barren flagpole with a pink, painted-on banner waving from the apex, a hazy blue summer sky behind. The music is the reason Pink Flag (and Chairs Missing and 154) still shape thoughts about rock and roll and what it can do and where it go while doing so little and hardly moving. But it's tempting to romanticize. A picture is, sometimes, really worth a thousand words.   j neas
MP3: Wire :: 12XU
MP3: Wire ::   3 Girl Rhumba
———————
____________________________________________________________________________________