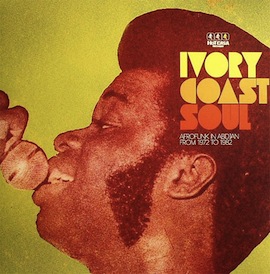 With little fanfare from the mainstream, African music of the 60's, 70's (and to a lesser extent, the 80's-present) has seen a massive resurgence of late. From its wide influence on contemporary artists (some of whom have been accused of everything from gross appropriation to blatant ripoff) to the vast collection of compilations and reissues, it would appear that we have entered a period of unrivaled access to music that even a decade ago was mainly the provenance of crate-diggers and archivists.
Enter the recent compilation, Ivory Coast Soul: Afrofunk in Abidjan from 1972 to 1982, from Hot Casa, a rather obscure French label distributed here in the states by Light In the Attic Records. Even with the seemingly near-constant release schedule per "African" reissues and comp projects in 2011, it's still thrilling to overturn the stones lying dormant, and another entry from Western Africa is a welcome addition.
Choice cuts such as Santa Nguessan's "Manny Nia," Ernesto Djedje's "Zadie Bobo" and Ali Ibrahim's "La Ilaha Illalahou" showcase the melding of styles many of the artists were experimenting with at the time: squarely and equally between afrobeat, funk, front-man bravado, deft guitar work, powerful and frontal horns and often propulsive percussion.
At best, compilations of this sort offer snapshots into the music of a time and place—its measure of accomplishment based on your desire to seek out, and dive in, further. Ivory Coast Soul accomplishes this, on multiple fronts, and one can only hope that interest in this particular microcosm is only the beginning. words/ b kramer
MP3: Santa Nguessan :: Manny Nia
MP3: Ernesto Djedje :: Zadie Bobo
———————
____________________________________________________________________________________