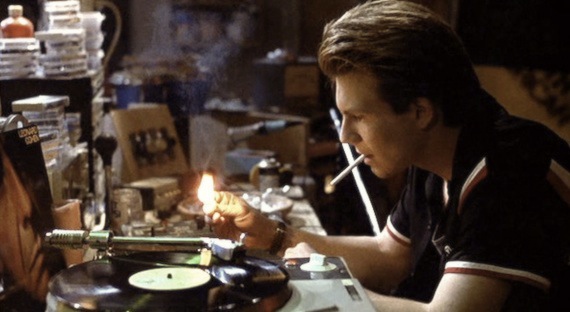 (Welcome to latest edition of A Soundtrack Enthusiast. Our latest entry comes courtesy of our friend John Gleason, of Roadside Graves, as he reflects on the music that framed 1990's Pump Up The Volume.)
____________________________________________________________________________________
The only tape my father ever cracked in half was the soundtrack to Pump up the Volume. He believed the Pixies "Wave of Mutilation (UK Surf Mix)" was an open invitation for kids to commit suicide. Luckily I had just swapped my Geto Boys tape out.
1990 was a good year to discover music. I was 14, Sonic Youth had just released their sixth record, Goo, featuring Chuck D on "Kool Thing." This collaboration brought me from mall music shops to record stores like Pier Platters in Hoboken and Vintage Vinyl in Fords (NJ) seeking out other SST Records artists. An older High School student began passing along mix tapes with bands like Shudder to Think, Shelter, Nation of Ulysses, and the Wedding Present (thanks Ian). Just months earlier I had been content with my De La Soul and Brand Nubian cassettes. Now I was completely unsatisfied with my musical interests and overwhelmed by the prospect of what was out there. I began playing music in the basement with friends, bothering Shrimper records to release our tapes (he wisely never did but always wrote back with encouraging notes), bought anything the AJAX catalog suggested, and routinely spent weekends at Maxwell's in Hoboken dressed in acne and cardigan. It was around this time that the movie Pump Up The Volume was released.
Enter Christian Slater as short-wave pirate radio DJ "Hard Harry" or "Happy Harry Hard-On" (a play on the high school's name Hubert Humphrey High) who inspires the teens of the suburban community of Paradise Hills, AZ each night positing questions and proclamations such as: "Is there life after High School?," "Everything is on hold?" and   "I can smell a lie like a fart in a car" and the danger of being "but surfed by the system." Soon there are communal listening crowds gathered   at the local ballfield, Billy Idol punks are fighting to get back into school, teens queens are blowing up their mirrors in microwaves, sweaterless women are writing sexually charged poetry, and chubby outcasts are selling pirate tapes of his late night performances. It's a teen dream of anarchy. A 90's version of Over the Edge complete with emergency PTA meeting and insane dialogue like "We are all really scared to be who we really are. I'm not perfect. I've just been going through the motions of being perfect and inside I'm screaming!" with glorious and diverse music scattered throughout.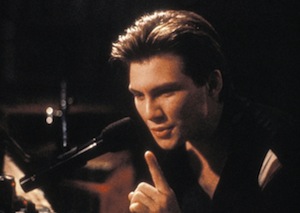 The commercially released soundtrack to the movie is quite disappointing considering the songs mentioned, displayed   (I distinctly remember pausing and trying to write down all the band names on the stack of tapes in one shot that shows Camper Van Beethoven, Henry Rollins, Bad Brains, Jesus and Mary Chain, and Miles Davis), and played throughout the movie. The film effectively mixes the Descendents, Was not Was, Ice-T, Aaron Neville, and the Buzzcocks. Yet the most dramatic impact was introducing me to the music of Leonard Cohen.
While the camera scans Harry's Blackjack gum, Wild Cherry Diet Pepsi, wind-up erection, and Sgt. Slaughter figure, Leonard Cohen's "Everybody Knows" spins on the turntable. Later after a teen suicide, he mourns with "If It Be Your Will" complete with Cohen's Various Positions record cover resting against the radio turner. I can pinpoint this as the moment. Amid this clash of music, played against the Descendents and the Buzzcocks, Leonard sounded even better. A throaty wise voice easily more wild and charged in its sadness and desperation.
Listening to Leonard Cohen is comforting, inspiring, and completely frustrating. It's not unlike hearing Dylan's "Blowing in the Wind" for the first time. You want to doubt that one man is capable of writing such precise and universal truths. You want to try your hand at it. Then you listen again and realize that you will never come close. And then you try again. words/ john gleason
MP3: Leonard Cohen :: Everybody Knows
MP3: The Pixies Wave of Mutilation (UK Surf Mix)
———————
____________________________________________________________________________________