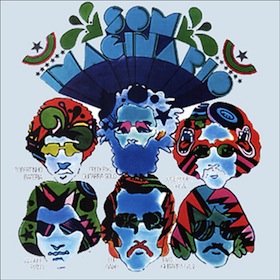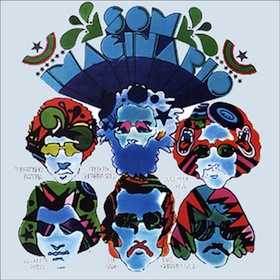 This was Som Imaginario's (Imaginary Sound) debut album from 1970; a Brazilian band that often backed the great Milton Nascimento just as Os Mutantes had backed Gilberto Gil and Caetano Veloso on their early albums. In fact, this album could be seen as the perfect companion piece to Os Mutantes' 1969 masterpiece, A Divina Comedia Ou Ando Meio Desligado
.
The band's name is very fitting as Som Imaginario is an invigorating blend of folk, soul, psychedelia, brit influenced pop, rock and traditional Brazilian homeland music. For a debut album, the band sounds extremely confident and wild, steaming and cooking through the album (and there are no duff tracks either).
Morse opens the album on a funky note, with blasts of fuzz guitar and swirling organ. The next song, "Super-God" has some great use of wah-wah and distorted vocals. Milton Nascimento guests on the mysterious "Pantera," which is another highlight with a bomb explosion intro. Nascimento's voice is highly original and experimental and adds depth to an already good composition. The two songs sung in English, "Poison" and "Make Believe Waltz," are also very good, soulful folk-tinged ballads.
An essential psychedelic album and a must for fans of Tropicalia. Som Imaginario released a few albums during the progressive rock era which are also highly recommended, but reissues are criminally unavailable. words / j. nardelli
MP3: Som Imaginario :: Sabado
———————
____________________________________________________________________________________