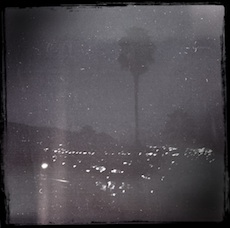 I've been catching up on Ethan Miller's blog, Silver Currant, over the past couple of months. Sporadically updated, Miller, who fronts Howlin' Rain, presents a treasure trove of homemade psych compilations (and more) geared toward the obscure and out of print.   All very much worth checking out if that sort of thing does it for you (as it should).
Amongst the various digital download booty there is a link Ethan shared for a Howlin' Rain joint called Three From A Phantom Saloon, described as an "unreleased haunted acoustic EP from the vaults." Whereas Howlin' Rain's strength is based in the power of their live show, these renderings tap into the promise Ethan made back in 2006, describing Howlin' Rain as music to "sing along with while drinking whiskey in the bathtub, on a Saturday night, with your dog."
Elsewhere: Rock Salt and Nails: A Country Voodoo Mixtape. This is a mix Ethan put together a few years back made up of some choice sides with even better commentary regarding his track selections.
MP3: Howlin' Rain :: In Sand and Dirt (acoustic)
MP3: Howlin' Rain :: Called Lightning, Pt 2 (acoustic)
MP3: Howlin' Rain :: Nomads (acoustic)
———————
_____________________________________________________________________________________