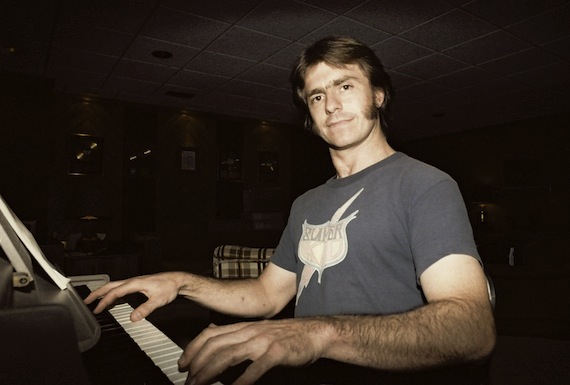 (Diversions, a recurring feature on Aquarium Drunkard, catches up with our favorite artists as they wax on subjects other than recording and performing.)
One cannot overstate the power of regionalism. Growing up in Georgia, in a rather musical household, I assumed the music of Eddie Hinton was as well known as, say, that of Sam & Dave. It wasn't until I began to discover this music for myself, years later, that I realized this was far from the case. If you caught our review of the latest Drive-By Truckers LP, Go-Go Boots, you may recall I discussed the looming presence Hinton casts over the album both implicitly (they cover a couple of Hinton's tracks) and in overall tone. Below, DBT's Patterson Hood pays tribute to Hinton's story and artistry.
——-
First things first, I could spend the next several hundred words trying to describe the songs and voice of Eddie Hinton, but let's cut through the BS and listen for ourselves.
MP3: Eddie Hinton :: Hard Luck Guy
"Hey, you wanna hear somebody moan? I ain't got no home" – ('Hard Luck Guy' by Eddie Hinton)
Eddie Hinton was born in 1944 in Tuscaloosa, Alabama and died in 1995 living at his mother's house in Birmingham. He spent most of his life living in Northern Alabama including his most productive years in my hometown of Muscle Shoals. He often worked with my father, David Hood, who is a bass player and was part of The Muscle Shoals Sound Rhythm Section. They played together on records by Wilson Pickett, Aretha Franklin, Boz Scaggs and The Staple Singers among many others. My Dad also played on most of Eddie's solo albums. They were friends and I have vivid memories of Eddie coming over to the house when I was a little boy. He was handsome with a nice smile and was more comfortable interacting with a little kid than most of my parent's friends from that era. Later on when I would hear stories of Eddie's 'problems' I always had difficulty placing the tales I would hear along side the memories I had.
Likewise, in his later years he was known to be an inconsistent live performer, often given to 'too much drink'  with disastrous results; but on the night I got to see him play (in Sheffield, Alabama at Calico's) he was really good, driving the band with his almost trance-like rhythm and groove and soaring to the stars with the razors and gravel of his vocal delivery.
Eddie moved to Muscle Shoals during its heyday as a recording spot for classic soul records and was quickly considered (along with Duane Allman) to be a session guitarist of the top tier. Legendary Atlantic Records Producer Jerry Wexler, who had coined the phrase 'Rhythm and Blues' while an editor at Billboard Magazine, immediately recognized the 'genius' of Eddie Hinton and predicted a long and successful career ahead of him. During this era, Bob Dylan came to record there and was captivated by Eddie for his artistry and intelligence. Eddie co-wrote (with Donnie Fritts) "Breakfast in Bed" which became a hit record for Dusty Springfield and later by UB40 and Chrissie Hynde.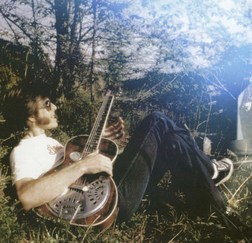 Eddie and Donnie also co-wrote "Where's Eddie" which was recorded by Lulu for her Atlantic release New Routes. The song, written from a girl's point of view lamenting the way she had treated poor ole Eddie and wishing she could find him and make it up to him is one of my all time favorites. The psychology of that song and what it says, not just in its words but about it's writer; is a truly magnificent lesson in sociology as well as a stunning piece of writing.
If Eddie had his biggest success as a session player and songwriter, his greatest legacy are the amazing records he recorded himself as a solo artist. Very Extremely Dangerous is considered by the few who have actually heard it to be one of the essential soul records of all time. Unfortunately it was released on Capricorn Records just weeks before they went bankrupt in 1978 and it never had a chance. During this time it was already becoming apparent that Eddie was 'troubled', a condition that culminated with some time spent in a mental institution. He could be erratic and sometimes violent. A little later when Reagan cut funding to the hospitals, like so many others, Eddie became homeless, living for some time in a city park in Decatur, Alabama. Around this period he recorded his excellent Letters From Mississippi album; which features the 'should be' classic "Everybody Needs Love." It received very little distribution in the states but did become a cult hit in some Scandinavian countries.
Eddie managed to make and release a couple of other records but his weight ballooned and his health began to deteriorate. He was just fifty-one when he passed away from heart failure.
One of the first songs my band, Drive-By Truckers, recorded was "Sandwiches For The Road" which I wrote in tribute to Eddie shortly after his death.
His greatest albums are the ones that have been released since his passing. A tiny label in the UK called Zane Records has released four of the finest albums I have ever heard. Hard Luck Guy, the Johnny Sandlin produced album he was working on when he died is a stunning and essential document of Eddie's genius as a singer, guitarist and songwriter. Better still are the three volumes of his "Songwriting Sessions" series, especially Volume One: Dear Y'all; which I rank alongside the very best records of Otis Redding, Wilson Pickett, Aretha Franklin and Bobby Womack. Soul music has never been finer than this.
Now, please indulge me by playing the above clip once again.
"Say, you want to hear a sad song
ohh about somebody's love that's gone wrong
Say, you feel, you want to cry
Well come on with me then, I'm a hard luck guy"
When Eddie wrote that, there is a chance that he actually was homeless. At very least he knew exactly what it felt like and it shows in the tone of his voice and by the almost quiet desperation of the sentiments he's conveying. Eddie truly was a hard luck guy. Damned by fate and illness and his own demons to never achieve his potential or reap the rewards of his genius. Fortunately he was captured on tape and although his albums are very difficult to find, they are more than worth the effort to track them down.
I consider them to be no less than treasures and my life is much better for having his music as a soundtrack to so much of it. words/ Patterson Hood — photo/ Dick Cooper
MP3: Drive-By Truckers :: Everybody Needs Love (Eddie Hinton)