(Album artwork: Does it indeed affect our listening experience, and if so, how? Scratch the Surface takes a look at particularly interesting and/or exceptional cover art choices.)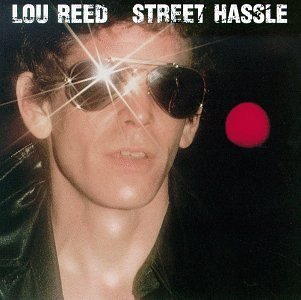 Expectations. We all have them, for better or worse, and with music these expectations are often heightened.
Lou Reed was supposed to be the second coming. Based on his Velvet Underground genius, some expected him to be the next "Bob Dylan," a voice for a new generation, and while Berlin was strong and Transformer hit on most cylinders, the work Reed put out in the seventies rarely met the expectations of his audience. True, he had his fans, and select songs that could stand up to others of the period, but I think a good portion of his fans expected something else. Then you throw Sally Can't Dance into the mix, not to mention Metal Machine Music Pt. 1, and it's just a rebellious slap in the face to "others" expectations. A real punk rock move before punk rock even knew what it was.
I love Lou Reed, and I love most of Reed's early albums, but I think expectations from others ultimately led to his downward soul searching spiral…that is until he found it with Street Hassle.
Street Hassle is about acceptance and power. It's Reed finally acknowledging how much a self-parody he had become. With Street Hassle, Reed had finally both recognized and accepted his prior roles, facades and incarnations, and was now willing to face them head on. Simply put, Lou Reed was finally ready to make a "Lou Reed" album.
Street Hassle's LP cover explains it all, exuding arrogance, confidence, and fear. From the distressed title font letting you know it's not perfect, that he's not perfect, to the "self portrait" with the smug shooting star glimmer in his eye. He has a new found realization and acceptance of his own self-destruction with a "fuck you" mentality. And how does he start this battle off…by sacrificing one of his own children, "Sweet Jane."
The album starts off with remanence chords, immediately providing the listener with a reference point, a familiarity, a sense of, "welcome back." The lyrics to "Gimmie Some Good Times" begin with Reed having a conversation with, ostensibly, a fan, but I see it more as a conversation with himself:
Hey, if that ain't the rock 'n' roll animal himself, what you doing bro.
(Standing on the corner)
Well, I can see that, what you got in your hand
(Suitcase in my hand)
No, shit, what's this
(Jack is in his corset, Jane is in her vest)
Fucking faggot junkie
(Jack, sweet Jane, I'm in a rock 'n' roll band)
Well, I can see that
Any thoughts about Reed returning, or even possessing the desire to return, to his prior spoils are squashed in this initial exchange. He manages to mock his past in the intro and chooses to start off the LP with a song that slaps back.
The album continues with "Dirt, which could be said to be an exploration of Reed's own self. The LP's cover reflects this with the "self portrait;" a perceived image of one's self. Is this Reed or who Reed wants to be…or have you to believe him to be? With lyrics like…
"It's been a long time, since I've spoken to you.
Was it the right time?
Your current troubles, and you know, they'll get much worse.
I hope you know how much you enjoy them"
and a "chorus" that uses the famous "I fought the law and the law won"
…it's almost a realization and recognition of the internal battle, and finally now being able to set the record straight.
While amazing in it's own right, it's not nearly as amazing as the album's centerpiece, the third track, or last track on the A Side. The epic collage, the holy trinity, arguably one of the best songs of the seventies, "Street Hassle."
The song in which the album takes its title from personifies the cover, the LP, Lou Reed, and underground life on the New York streets during the time. In this one song, Reed creates one of the most brutal, yet beautiful and tender epics of his career. With this one song, Reed returns himself to the poet he has always been. A three part spoken word masterpiece set to music: A. "Waltzing Matilda" B. "Street Hassle, " and C. "Slipaway."
In this eleven minute song, Reed describes a woman picking up and paying a male prostitute for sex, A drug dealer's "monologue" about the death of a woman in his apartment, and finally, a spoken word intro by none other than Bruce Springsteen, ending with "Tramps like us, Baby we were born to pay", which leads into Reed's, almost soliloquy like, poem about love and death.
Reoccurring themes set to a simple, yet elegant, musical riff, with a bass line to die for in part C. Truly amazing poetry on any level, and certainly the heir apparent to anything ever released by the Velvet Underground.
If nothing else came from this album, it would be worth it just for that one song, but we also get the politically incorrect gem, "I Wanna Be Black". With lyrics such as,
"I wanna be black,
wanna be like Martin Luther King,
And get myself shot in the spring,
And lead a whole generation, too,
And fuck up the jews"
Racial stereotypes, middle class white rebellion, and self acknowledgment set to rhythm and blues accompanied by black background singers…I don't think you get anymore tongue in cheek punk rock than that.
From this point in the LP, Reed continues to interlock his songs. Linking the past with the present with "Real Good Time Together" (a VU cover), the "Shooting Star," and the blatant "Leave me Alone," Reed almost creates the perfect concept album, that is, until the upbeat "Wait." A song that almost second guesses the seven previous tracks. A song that let's us know he still cares what we think juxtaposed with backing vocals of "disgrace" and "what a waste." A song that honestly makes a lot of sense here. After the gutters we've been dragged through, the pimps, prostitutes, and punks, the things we have seen, there's still that moment of "wishing that we'd wait." The vulnerability that was non existent has now shown up, and the Reed of the past, for however brief, asks us to wait.
The first four songs are the real highlights from Street Hassle; the songs that immediately grab your attention and reflect the art of the album's stark, yet powerful rockstar image. Looking back on Street Hassle I'm reminded how much the LP's cover art choice made an impact on me; not only by grabbing my attention, but by setting the tone for my expectations. I was not disappointed. words/ m hayhurst
MP3: Lou Reed :: Street Hassle
MP3: Lou Reed :: Gimme Some Good Times
———————
Only the good shit. Aquarium Drunkard is powered by our patrons. Keep the servers humming and help us continue doing it by pledging your support via our Patreon page.