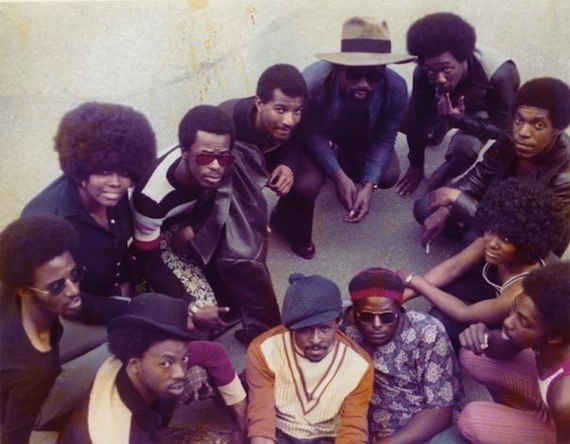 Filmmaker Jennifer Maas dedicated the last half of the decade chronicling the Seattle soul scene of the 1970s. Her efforts culminate in the new documentary Wheedle's Groove. A project that began following a meeting with Light In The Attic Records founder Matt Sullivan (whose 2004 Wheedle's Groove comp inspired the project) we caught up with Maas to get the skinny on her film and Seattle's all but extinct soul scene. After the interview, be sure to stick around for Pastor Patrinell Staten Wright's cover of "Jesus Christ Pose," found on the Wheedle's Groove: Kearney Barton LP.
_____________________________________________________________________________________
Aquarium Drunkard: Seattle. Not the first thing folks think of when referencing old soul and r&B. Prior to your move to Washington from Austin were you hip to the history of this scene?
Jennifer Maas: No they don't, and neither did I. In fact when I first moved to Seattle, the demographic was so different from what I was used to that I just kept on wondering where everybody was. Seattle is really amazing in a lot of ways, but I would say that the culture from fashion to politics feels more uniform than other places I've lived. It is a great place to sort of plunk down and be pretty much unchallenged in your outdoorsy progressive indie-rock-loving ways. That's certainly not a bad thing, but it's true.
AD: What initially sparked your interest in making the documentary?
Jennifer Maas: I interviewed Matt Sullivan at Light In The Attic Records for a documentary I was making about the infrastructure of a working music scene. I was interviewing record labels, radio DJs, club owners, and music journalists. Matt was probably my 6th interview and as soon as he started talking about this compilation of Seattle soul music that he was about to release, I knew that was going to be my movie. The record release party was a couple of weeks later, and I enlisted a few friends to help me film the event. Five years later, I had a movie.
AD: In terms of capturing (the music's history) for posterity, had any of the legwork been done prior to Wheedle's Groove (books, journals, other docs, etc)?
Jennifer Maas: There was nothing. No museum exhibits, no books, no journals, no magazine articles. Nothing. It was really difficult. There were a couple of websites: Pacific Northwest Bands and History Link where we could get a little glimpse into a few bands, but nothing complete. We had timelines and an office full of index cards trying to piece the story together. Dates and stories differed wildly and we spent a lot of time trying to get it all straight. There were certainly times where this felt like an unwieldy project. Like any documentary, it could've gone in a million directions, but I feel like we were always grounded by the mission of documenting the history above anything else.
While the music scene itself hadn't been documented. There were a few good resources about the black community in Seattle at the time. Quintard Taylor's The Forging of A Black Community: A History of Seattle's Central District, 1870 through the Civil Rights Era was a fascinating read.
AD: Outside the musicians themselves, who were some of the greatest resources in terms of putting the pieces together documenting the pulse of Seattle's soul scene at the time?
Jennifer Maas: Robert Nesbitt was a radio DJ and club owner, and he really did feel like glue. He had a higher view of what was going on, and he also really helped bring everyone on board. County council member Larry Gossett, who was involved with the Black Panthers back then helped us fill out that part of the story. Sir Mix A Lot was a kid at the time, and certainly wasn't a part of the scene, but I felt like the descriptions of the time from his 12 year old eyes were some of the most beautiful. High school yearbooks and the African American journal were priceless resources.
AD: The Wheedle's Groove compilation on Light In The Attic is fantastic. I'm sure you have your favorite tracks, but are there some specific songs on there that define the project for you…songs that you could not imagine being on there?
Jennifer Maas: The first song in the film and the song that opened DJ Mr. Supreme's eyes to the scene is Black on White Affair's "Bold Soul Sister, Bold Soul Brother." The first drum break still gets me every time I hear it, and I consider it a success if the film could feel like that song. The last song is Soul Swingers' "Brighter Tomorrow," which is thematically perfect for the movie. Besides being a record of this time and place, one of my favorite threads was seeing how these musicians found a way to get on after their careers took very different turns than they had planned.
AD: In terms of licensing, or just the logistics of tracking the right person(s) down in terms of permissions, did you have to leave anything crucial out of the film?
Jennifer Maas: Oh yes. I only had two small film clips of any of the bands playing during their heyday. One of the two was Robbie Hill's Family Affair backing The Main Ingredient on the Dinah Shore Show. It killed me to take this out — mostly for Robbie Hill and the other guys in the band. It was objective proof of this amazing thing that happened in their lives, and the rights holders just wouldn't make the licensing fee reasonable for our budget.
Another clip I had to take out was of Pat Wright singing a cover of Soundgarden's "Jesus Christ Pose." This was such a great tie-in with the rock scene that Seattle is known for, so it was a shame to lose it. Plus Pat's cover is one of my favorite songs of the project.
AD: Like a lot of towns, a number of the artists interviewed in the film note that Seattle was a place one had to leave in order to "make it' as a musician. How does this ring true today in Seattle, specifically in relation to r&b?
Jennifer Maas: I think it probably is, but that's totally just a guess. In general it seems like r&b is difficult to do at an Indie level.
AD: Wheedle's Groove, as a project, has been going for over five years now. What is next for you?
Jennifer Maas: I produced a movie called Treatment that premiered at Tribeca this year. I am line producing Paramount's first ultra-low budget feature with a working title Destination Wedding. I'm producing Matthew Lillard's directorial debut this summer called Fat Kid Saves The World, and I'm directing a documentary about lady bartenders in dive bar America.
MP3: Pastor Patrinell Staten Wright :: Jesus Christ Pose
———————

_____________________________________________________________________________________