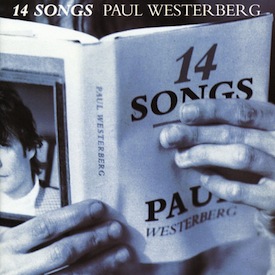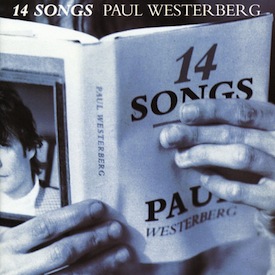 I've never been a huge fan of 14 Songs, which is probably an odd statement coming from a massive fan of both the Replacements and much of Paul Westerberg's solo work. But when I was first getting into Westerberg in high school, I was always more fond of Eventually and Suicaine Gratifaction. Also, I think it's important to note that I wasn't overly fond of the 'Mats' All Shook Down during the same period. Not only were both albums produced by the same person, but since both records were Paul's first steps away from the Replacements as a band, they have a similar sound and feel to the songwriting.
Recently though, while listening to the Besterberg best-of collection, I was reminded of how much I enjoyed some of the tracks culled from 14 Songs. I decided it might be time to revisit the album as a whole to see if my thoughts had changed over the years as it had been some time since I'd listened to it in its entirety.
It's obvious that Westerberg had been taking steps toward a more 'mature' sound in his songwriting for some time. While the 'Mats' albums were notorious for their throw-away songs that threw the brilliant songwriting into sharper relief, those songs had fit less and less cohesively into the later albums of the band's career. Unfortunately this pursuit of a grown-up sound also seemed to mean continued work with Matt Wallace, the man who had produced the Replacements' Don't Tell a Soul and All Shook Down, the former of which is not exactly beloved, production-wise, in the band's catalogue.
So what did I think after revisiting the record? It's better than I remembered, but still a deeply flawed album. Here I'll make the obvious joke that 14 Songs would have been better as merely 12, but nothing from the first six tracks of the album is touchable. "Knockin' on Mine" is the epitome of Westerberg at his self-deprecating, tongue-in-cheek, rockin' best, a perfect opening track that regains some of those qualities that had seemed to disappear in All Shook Down. "Runaway Wind" and "Even Here We Are" are beautiful ballads, the last of which captures the magic that happens when you set a microphone in front of just Westerberg and a guitar with little to no extra instrumentation involved. The jaunty "Dice Behind Your Shades" pairs Westerberg's wit with his female character study tendency and, yet again, begets a beautiful song. (Though I honestly prefer the "festicle version" which was a b-side for "Knockin' on Mine" — well worth tracking down.)
But then comes the first song I'd cut – "Silver Naked Ladies." It's a classic sounding rocker with trite lyrics and little to recommend. A forgettable b-side at best, its placement after the beautiful "Even Here We Are" and before the superior "A Few Minutes of Silence" throws a huge monkeywrench into the album's flow. The second half of the LP suffers as a result, despite having two of Westerberg's finest solo songs ever, "Black Eyed Susan" and "Things." "Black Eyed Susan" sounds sonically like an updated take on the Replacements' "Within Your Reach." "Things" is, lyrically, one of Westerberg's finest hours, a sweetly sad song about the demise of a relationship that threads itself through various meanings of the title word. They're the only two softer songs in the second half and easily the best of the bunch. The rockers are serviceable – the aforementioned "A Few Minutes of Silence," the intricate "Mannequin Shop" and the closing rave-up "Down Love" are strong – but "Something is Me" (the other song I'd cut) suffers from poor lyrics, not a critique I'm used to leveling at Westerberg compositions. Even his worst songs usually have small couplets or clever wordplay that redeem them in some fashion, but not so here.
14 Songs is better than I remember and, honestly, its weak spots are probably the result of a great talent truly untethered for the first time from the internal quality control of a band mechanism. He didn't seem to fix that problem until Suicaine Gratifaction (for all its great songs, Eventually is full of more clunkers than 14 Songs), but it's easy enough to forgive some of the rough patches here. I understand why so many people have defended this album as the best of his early career as it's the closest to the Replacements' sound that he would come for some time. But it serves more as a document of the beginning steps and mis-steps of an artist coming into his own independent voice for the first time. words/ j neas
Related: Paul Westerberg :: Suicaine Gratification
MP3: Paul Westerberg :: Knockin' on Mine
MP3: Paul Westerberg :: Things
——————
_____________________________________________________________________________________