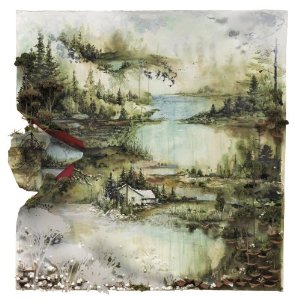 If there was a jumping off point in trying to predict the sound of Bon Iver's self-titled sophomore album, it probably came with the numerous live recordings of the touring incarnation of the band covering the Outfield's "Your Love" back in 2009. But it isn't as simple as that either. While Bon Iver certainly owes its sonics to an appreciation of some of the key points of 80s pop instrumentation, it also inhabits a weird netherworld where visages of folk, atmospheric and spacey pop, and a country-imbued somnambulance all find hold in the song structure.
Even so, there's a lot here to connect Bon Iver with its predecessor – Vernon's singing is pretty recognizable at this point; his song structure is pretty identifiable as well – but the differences become apparent only a minute and a half into opener "Perth." The martial and machine-gun percussion is reminiscent of the prog-influenced pop of the late 70s/early 80s – there will be Phil Collins/Peter Gabriel references abound in reviews, I'm sure – as are the synth-sounding bass and soft horns.
There's less space in the music this time around though. One of the best things about For Emma, Forever Ago was its silence. Vernon was able to create vast spaces behind minimalist guitar and voice, even when both were active, that recreated the environment of his, now fabled, isolated Wisconsin cabin. This time that space is filled with small, intricate noises and nuanced swells and fades. It's almost as if he stepped out of the cabin and into the wilderness at nighttime, deciding to map the billions of bright stars that appeared in the light pollutionless sky and the myriad noise of the forest at rest.
This is a fuller Bon Iver than the one to which we were first introduced. Bon Iver plays like a genre exercise in a decade, but it's far deeper than the sum of its surface parts. It's a massively successful follow-up to a massively successful debut mainly because it kept its soul intact while moving out from its insular world. words/ j neas
MP3: Bon Iver :: Calgary
——————
_____________________________________________________________________________________