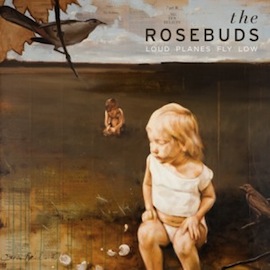 For a band just hitting the end of its first decade the Rosebuds' catalogue has been a fascinating one. From the boisterous indie-pop of their debut to the dark and dancey Night of the Furies, the band has taken some interesting chances with variations on their own sound that make the arrival of new albums a continuously welcome occasion. But following 2008's Life Like, the husband/wife duo at the core of the band, Ivan Howard and Kelly Crisp, separated. When the very relationship upon which a group is centered dissolves, how does a band press on?
The answer to that question, in this case at least, comes in the form of the Rosebuds' first new record in just under three years, Loud Planes Fly Low. A lot has been made in Merge Records' press releases for the album about how Ivan and Kelly had to identify the nature of their own new relationship before being able to sit down and write the songs that became this record. Is the result anything new for the band?
In some ways, yes. Loud Planes is without question the Rosebuds most melancholy record. It's not an emotion that is a familiar feel for the band. The result also is that the album is not immediately accessible. A Rosebuds album is normally home to at least three or four tremendous, up-tempo rock songs and a handful of slower sing-alongs. The consistent tempo to a lot of the songs makes for a record that simmers and makes it harder for the best songs to come to the surface.
This sounds like a damning description, but the truth about Loud Planes Fly Low is that it is filled with some of the best written songs of the band's career. Opener "Go Ahead" builds to a cathartic release using Howard's vocals, rumbling drums, and insistent keyboards. "Come Visit Me" has a chugging dance vibe to its guitars and tempo. The tandem of "Without a Focus" and "Waiting for You" might be the album's best moment. The former is a low-key, mostly solo acoustic number that punctuates its best moments with cello and lead guitar perfectly without ever overwhelming the song's icy lyrical feel. "Waiting for You" follows it with an airy, delicate profession of despair. It's a tremendous one-two punch in the middle of the record that gets followed by "Woods," the album's most rocking song. The sequencing of Loud Planes Fly Low is immaculate, building and ebbing at the most opportune moments but in ways so subtle that the album deceives. It's the definition of a grower album, showing its strengths slowly and paying off repeated listens.
The product of an incredibly fraught set of circumstances in which to birth a work of music, Loud Planes Fly Low feels like a second start for a band who has always seemed to restlessly explore its nuances. It's a layered and beautiful album full of the hard-fought insight, both musical and lyrical, of its members last few years working together and a tremendous outcome for something that no doubt started by seeming so terribly hopeless. words/ j neas
MP3: The Rosebuds :: Woods
MP3: The Rosebuds :: Second Bird of Paradise
———————
_____________________________________________________________________________________