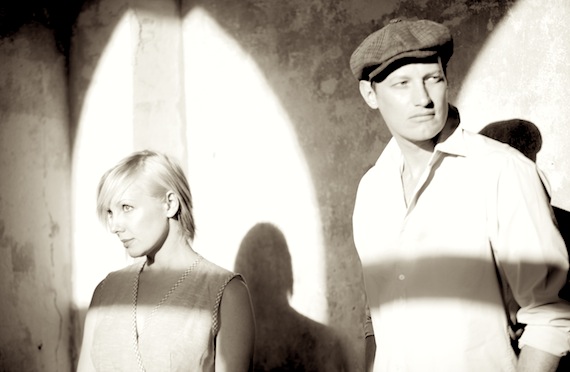 The Rosebuds just released their fifth studio album, Loud Planes Fly Low; their most inventive, inspired, and honest record to date. Following their fourth release, 2008's Life Like, the relationship that inspired the group in the first place came to an end and the couple chose divorce in order to save themselves and their music. Leaving North Carolina's sweethearts at a crossroads, Ivan Howard and Kelly Crisp, chose to look at this as a chance for a new beginning—a chance to push reset. The songs on Loud Planes Fly Low allow the listener to peer into the most intimate of conversations and the catharsis that had to take place if the band was going to give themselves an honest chance at moving forward. AD recently caught up with Ivan and Kelly to discuss the process in making the album, and the second chance they have at making the "first" Rosebuds record.
_____________________________________________________________________________________
Aquarium Drunkard: I had a chance to see you perform at The Hopscotch Festival kickoff show in Raleigh a few weeks ago. How was it playing the songs from Loud Planes Fly Low in front of an audience for the first time?

Kelly Crisp: Indescribable! This has been long overdue, we didn't do any live shows while recording the album. That show was just so fun, playing, rehearsing, man, we were laughing so much. We were just having a blast.
Ivan Howard: When me and Kelly were writing these songs, and imagining how people are going to react when they hear them, I still have that imagination of what should happen, and sometimes it did and sometimes it didn't.  Like when we played the song "Woods" it kind of shocked me, the way people reacted the way they did, for not hearing the song before.
AD: I can imagine. I mean, when I heard the first few notes of "Woods" I immediately felt like it was my favorite song.
Ivan Howard: Yeah, it was really weird. It felt good though. It was fun.
AD: That night, your lineup was a veritable who's who of North Carolina musicians—Mark Paulson (Violin –Bowerbirds), Matt McCaughan (drums-Bon Iver), and Brad Cook (bass-Megafaun)—all contributors on this new record. Do you enjoy these inter-band collaborations?
Kelly Crisp: We've kind of all grown up together. The Rosebuds, Megafuan, Bowerbirds, Bon Iver. I think we all have this identification with each other and we all share members constantly. It's their creativity and positivity that gives us the most from our collaborations.
Ivan Howard: They're just amazing musicians. Matt's played with us for years, and Brad has too, and Mark's done a few shows as well, but Mark's always been involved, he mixed Night of the Furries. We've been a family forever and I think they just make us more confident. It's just a good vibe. We've really lucked out.
AD: Speaking of collaboration, you've once again enlisted the talents of artist Shaun Richard to create the artwork for the album. Whose decision was that?
Kelly Crisp: Shaun and I have been friends since college. He did Birds Make Good Neighbors and Life Like, as well as the new record. It's actually good you asked about this because that's a collaboration that sometimes goes un-talked about, because it seems that visual art is a completely different thing, but it's not. To me it's a very important element, I mean this painting, every time we got lost on lyrics, I'd go back to the painting. It's so personal.
AD: Your prior release, Life Like, felt like a natural progression for the band. However, it seemed to get an overlooked reaction. How did that response, if any, effect your music?
Ivan Howard: We were definitely disappointed with the response, not necessarily from the fans, because the ones that actually heard the record seemed to love it, but we were just kind of disappointed with the way it just never got out there. We actually weren't even planning on making a record, and I think that attitude kind of got into the promotion of it. I don't think it slowed our process down any though because we toured Europe, China, and America twice, so it didn't really knock the wind out of our sails, but it was kind of a disappointment. It's funny though, because when we play those songs live, it seems the fans really connect with those too.
AD: I know, "Bow to the Middle" and "Nice Fox"—two of my favorite live Rosebuds tracks—are off that record. Can you to tell me about the past two years and the process that went into making Loud Planes Fly Low?
Ivan Howard: After the tour ended in December of '09, I think we just needed time to reflect and decompress, so we didn't start writing this record until March of 2010. We got into a room and finally just shut our eyes and started playing music to see what would happen. That's where the song "Story" came from. It's kind of the first time we ever did that since way back in the day. I think we needed to figure out a way to record and write songs together after going through the break up and saying to ourselves, we need to learn how to redefine ourselves as people, much less worry about how to define ourselves as a band. We just needed to take that time to write the record; we just needed to write these songs for ourselves.
Kelly Crisp: Usually our lyrics are heavily veiled discussions of life or politics, real heavy with metaphor. With this record, it took us along time to get into it, because I didn't want to say what was going to have to be said…we just weren't ready. It had to unfold slowly on it's own natural course. Every song on this record came from a very honest vibe between us, more than any other record, which made it doubly important that we spend time on lyrics. It became clear to me that we weren't going to be able to make any other kind of record until we made this record. It was a cathartic experience. I can't say that in a big enough way. We had to write this record.
AD: Maybe because it is so personal, but to me Loud Planes Fly Low feels like it's your first "album." From "Go Ahead" to "Worthwhile," it's not just a compilation of songs, but an album with something to say.
Kelly Crisp: Thank you. I understand that because that's how it feels to me and it's how it felt making it. I wanted to title the record, The Rosebuds, self titled.
AD: That would have been awesome.
Kelly Crisp: The label didn't want to do that, I guess one of the arguments in self titling the record is that people may confuse it with your first record, but I was like I don't care, that's fine, because this is who we are, presenting ourselves as this newly established, you know, everything – band, family, whatever we are together is new. I feel like this one is the first Rosebuds record to me right now. The way this cured so many things, the way it helped us as people, made us feel completely brand new, and why not be a brand new band and show that this is our first record.
Ivan Howard: Yeah, we definitely wanted to self-title it, but I do love the title Loud Planes Fly Low. I kind of fought for it when we decided we were going to title it, because when Kelly said that line to me in the writing process, that was the first time it clicked with me. I was like holy shit, no matter what we've been through, there's only two people in the world that get this line, what this line really means, and that's me and her. I don't care how clunky that title looks, I need that to happen for me, to remind me of that moment.
I think it's our most whole record ever. I love the record, I really do. It's the first time ever that we've actually pulled songs off the record during the recording process that would have been the "hits" on the record. Like there's three songs we took completely off that when we recorded, Chris Stamey (Producer) could not believe it, that we would not use these songs. They just didn't feel right, i mean, they just didn't fit the vibe. We both just wanted to make sure it felt good to listen to. That meant losing radio singles, but I think it makes a better record.
AD: When I gave the album a run through, I think I heard a little Gayngs in there. Do you think your involvement with the collective had any influence on this album.
Ivan Howard: You know, I'm the same age as Ryan (Olson), we're both in our thirties, matter of fact when you called I was listening to the Hot 90's at Lunch, Foxy 97.3 or something, so I've always liked that music, I just never knew how to play it. I was talking with somebody who also referenced that and I think that this is a little more of a soulful record, and I think the things we are saying, just kind of needed to be presented that way. Like I needed to sing the shit out of the chorus for "Woods" and the way Kelly sings the chorus to "Come Visit Me," I just love it and I had to sing the background that way, it's the only way it would fit. I don't know how much an influence it was, but anything you do in your life has an influence. If anything, the influence I hope it had  was just the attitude of everybody in that Gayngs family, it's just amazing.
AD: What is your favorite song on the new album?
Kelly Crisp: The song that plays in my head the most is the song "Limitless Arms," and that line, "and I see you", and for some reason that gets stuck in my head, but my favorite moment on the whole album is the drums on "Story". In the middle of the song there's this crazy drum solo, he's completely going off, and it sounds like it's about to fall apart, and the tension keeps building more and more and then it gets so intense for me that i actually have a physical reaction, I'm clinching, and then he brings it back to the drum and falls right back in, and it's like oh my god, whew, (laughs) that was close.
Ivan Howard: They all kind of switch back and forth for me. I like when in "Waiting For You" when it busts into that bridge, and me a Kelly go, "Spend a little bit of time with my baby…" that's my favorite moment on the record. I can't wait to play that live honestly.
AD: The few times you have performed these songs, do the words in the songs still sting when you perform them, or do you try and remove yourself?
Kelly Crisp: I think it's going to be a different experience every time. I promise you, there were a lot of sobbing tears during the making of the album. The cleansing of this record was just so heavy. The show you mentioned before, our second show playing these songs, I felt like there was so much support in the room that we felt held, and we were ok. Now I don't know about the tour. Every night is going to be totally different, but I'm pretty sure we are going to lose it at some point on stage, and that's fine, I'm ready for that.
AD: Do you look at this record as a new beginning or an end of an era?
Ivan Howard: I look at it as kind of both. I think it gives us a chance to have a new beginning. Without this record that chance wouldn't exist. It wouldn't be an honest chance. I kind of look at it like it gives us the right to kind of do what the fuck we want to do, from now on out. I don't want to go through another part of my life where I have to write this kind of record and I'm sure Kelly doesn't either. It's a green light now.
AD: Now that Loud Planes Fly Low is out, what does the future hold for The Rosebuds?
Kelly Crisp: We are just such a great team. What this record did for us, was make us feel like we could do anything. So I don't know. I'm dying to write the next record to get some ideas going…I don't know, we just pressed reset.
Ivan Howard: We have a lot of touring to do (w/ Bon Iver), but I don't know what the next set of songs will sound like.  I mean, after seeing Bon Iver with a nine piece band every night, we might want that, or being loud every night, we might want something quiet. I have no clue, probably finishing up those other songs that weren't on the record will be the first thing we do…maybe (laughs)
AD: Wrapping things up on a lighter note, if you could perform or redeem one song, what would it be?
Kelly Crisp: There's this song, "Hold On," by George Jones and Tammy Wynette that I would just love to sing with Ivan. It would just be so much fun to sing that song together.
Ivan Howard: Holy Cow…there are so many, that's an impossible question.  (laughs)  I think Teddy Pendergrass' "Turn Off The Lights" is like, I can't believe how many people do not know who Teddy Pendergrass is. Me and Kelly walked into a World Cafe session, and he was sitting in the control room and I almost freaked out. I'll say that one, or maybe Fleetwood Mac's "Hypnotized," two of the greatest songs ever. words/ m hayhurst
MP3: The Rosebuds :: Woods
MP3: The Rosebuds :: Second Bird of Paradise
———————
_____________________________________________________________________________________