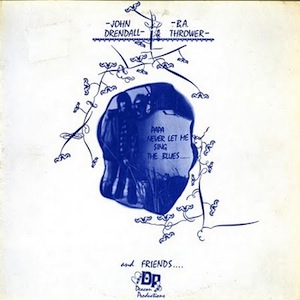 There are enough worthwhile vanity pressings from the late 60s – mid 70s that make collecting a rewarding interest, though the really good ones (the Bachs, the Rising Storm, Wilson McKinley, Relatively Clean Rivers et al) are far and few between. Most of these records, while musically very good, are overpriced because so few quantities were initially pressed. Please be warned though, most private press albums are average at best – I've been disappointed many, many times. So naturally, when I bought the Riverman Music version (a Singpore cd reissue) of John Drendall, B.A. Thrower and Friends' Papa Never Let Me Sing The Blues I was somewhat unsure of its quality, in other words, a skeptic.
Deacon Productions released 100 copies of Papa in 1971/1972. Both John Drendall (vocals/guitar) and B.A. Thrower (bass guitar/electric guitar/organ) lived on the campus of Michigan State University in Lansing. The two eventually moved into a suburban house with a spacious garage. This garage was turned into a studio where the group practiced hours on end. Eventually Drendall and Thrower found a studio in Kalamazoo that would record their experiments. Friends Tommy "Stiff Finger Eddie" Caruso (slide guitar), Mike "Elmo" Skory (keyboards), Vern "The Bopper" Albaugh (flute), Nelson Wood (harp), Jimmie Spillane (backgrounds), and Ross Maxwell (bells and anything else) add many valuable contributions to the album. Papa Never Let Me Sing The Blues is some very fine Americana, a true undiscovered gem.
The performances on Papa sparkle with a true level of professionalism. Drendall, Thrower and their "Friends" are all excellent musicians, the songwriting is stellar, and the production sounds top notch – on par with a major label rock group. Those of you who enjoyed Euphoria (the Texas country-rock group), Crazy Horse, and Everybody Knows This Is Nowhere era Neil Young will fall for this record in a big way. One of the songs on Papa, "Old Man Gibbs," sounds like an early Neil Young number in that it's a great rootsy rocker with stoned electric guitar work and burnt out lyrics. The album opener, "Cold Nite in August," stands out as the album's most blues oriented cut, 6+ minutes of laid back country-blues that's well worth hearing. Other highlights are the title track and "Get Too Heavy," both acoustic gems that feature solid guitar picking and in the case of the latter, good, close harmonies. Even the psychedelic numbers, "Black River Lady" and "I Feel" are fabulous mood music that conjures up a spacey atmosphere more in line with the late 60s. My favorite tracks are the nifty country-rocker "Bye Bye Mr. Jones," with its amusing group dialogue and the great "Throw Off Your Troubled Past." This last number features frantic guitar work (the guitarist really shreds up the fretboard on this one) and busy percussion; it's really a treat to hear these last two numbers. The album as a whole is uniformly strong and a must hear; not a bad cut on this LP.
So once again, Papa is a very accomplished work that should have been reissued years ago. There's been plenty of great reissues in 2009 but Papa is one of the best I've heard so far. words / j. nardelli

MP3: Drendall, Thrower & Friends ::: Throw Off Your Troubled Past
MP3: Drendall, Thrower & Friends :: Get Too Heavy
————————
_____________________________________________________________________________________