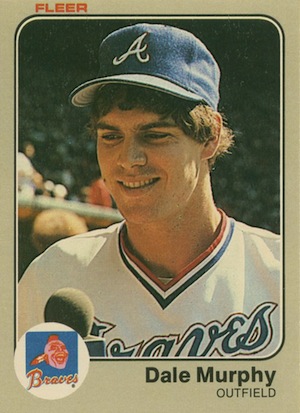 We've noted our love of baseball in the past, so when the former National League MVP Dale Murphy launched a blog recently and used one of his early posts to declare his fondness for Wilco (and some other great bands), we were thrilled. As the best of the AL and NL prepare to clash for the 82nd time, we caught up with the seven-time All-Star for his first-ever interview about music.
Aquarium Drunkard: You made a lot of your fans really happy when you launched your blog and joined Twitter. What prompted you to get active online at age 55?
Dale Murphy: You know, it's all kind of a big mystery to us 50-plus-year-olds, but my kids [ed note: Murphy has eight of them] were all saying "C'mon dad, you've got to get on Twitter!" I remember when it first came out and the founder said it's just a conversation between you and your friends where you answer "What are you doing right now?" and I thought to myself "Man, that sounds so boring! I don't know how long this idea's going to last." But then it just kind of evolved and I kept hearing about it, so I finally gave in–and I have to say, it's been a lot of fun. When I first got on Twitter I was like, okay, who should I follow? So I was looking around in the Music & Entertainment section and I saw Wilco and I said, okay, I gotta follow Wilco. It was funny because when you first get out there, people are trying to figure out if you're real or not and this one guy [tweeted] "This can't be the real Dale Murphy. He follows Wilco and Trent Reznor."
AD: One of your earliest blog posts was primarily devoted to your love of Wilco, but you also mention other lesser-known bands like Midlake and Local Natives. What's currently in heavy rotation for you?
Dale Murphy: Ha. When my son Chad and I started doing the blog we had some funny names for it. One of my favorites was "Murph Listens To WHAT???" I'd probably still be listening to classic rock radio if it wasn't for my kids because I didn't really know what was out there. So I get a lot of tips from them and I also really like "All Songs Considered" on NPR for finding new music. WIlco's always there in the rotation, but I have to say I really like this latest Decemberists record. I think it's fantastic. I don't even know what years some of the things I listen to are from, but the great thing is that it's all new to me. I really like LCD Soundsystem. I can't think of anything more different than them and Wilco, but I love that beat. Maybe it's all that disco stuff I grew up with (laughs).
AD: You mention in your blog how "electrifying" it was to see Wilco playing at The Riviera in Chicago. Do you get out to see live music much?
Dale Murphy: I try, but it's been a while. My son Shawn and I tried to go to a Local Natives show at this little tiny place in Salt Lake, but when we got there it was sold out. I was tempted to hang around to see if anyone was scalping tickets…
AD: You couldn't have used your MVP clout to get in?
Dale Murphy: Have you ever been to Kilby Court in downtown Salt Lake City? You can't just flash your baseball card at Kilby Court and have it mean anything (laughs).
AD: When you go to shows, are you recognized often?
Dale Murphy: Not really. Being retired for this many years, I'm pretty much incognito.
AD: Your time in Atlanta was contemporaneous with the rise of R.E.M. about 70 miles to the east in Athens. Were you exposed to that at all?
Dale Murphy: I heard a lot about Athens, but with playing ball and trying to raise a family I was kind of out in my own world. I do really like that latest R.E.M. album, though.
AD: What would you say is your biggest guilty-pleasure, music-wise?
Dale Murphy: I listen to a lot of Michael Jackson; I think he's unbelievable.
AD: I don't think most people would consider him a guilty pleasure. How about something that might be embarrassing if you had to admit it to your buddies?
Dale Murphy: I don't really listen to it any more, but I loved Roger Whittaker. I remember there used to be a whole lot of commercials for his music (laughs).
AD: I'm not sure we're in "guilty" territory yet.
Dale Murphy: You mean like Celine Dion or something?
AD: Exactly. Something you wouldn't necessarily Tweet "Hey, I'm currently listening to _____"
Dale Murphy: Well, being from Utah, The Mormon Tabernacle Choir (laughs), but I guess that doesn't really fit either. Okay, I'll tell you someone I love–and I have sung along with it–is David Archuleta.
AD: Okay, that qualifies. You've mentioned that you're also a CCR fan. As a former All-Star centerfielder, what's your take on the John Fogerty song about the position? Did you just get sick of it?
Dale Murphy: (Laughs) Yeah. That and "Talkin' Baseball." I like "Centerfield" a lot. It was iconic for the mid-80s, but boy did we wear it out at the ballparks. And I do lean toward the earlier, less produced, CCR stuff.
AD: Baseball and music have such a history together. Do you have a favorite baseball song?
Dale Murphy: Well, there's "Cheap Seats" by Alabama. That's a good one. And I remember at Wrigley Field they used to play the music from The Natural––when he hits that homerun (hums music)—that was fantastic. That one's hard to beat.
AD: If you were playing today, what would your "walk-up" song be?
Dale Murphy: Hmm…what's the point of a walk-up song? To get the crowd going? I mean, you wouldn't want Adele, right? That wouldn't really work.
AD: Right.
Dale Murphy: I mean, does Chipper [Jones] have one? Do people know it? What is it?
AD: Yes, it's "Crazy Train" by Ozzy Osbourne. You know: "Duh-dut,..Duh-dut. Duh-dut. Duh-dut…"
Dale Murphy: Oh, man. Okay…
AD: Maybe LCD Soundsystem would be appropriate? Get your blood pumping?
Dale Murphy: "Daft Punk Is Playing At My House"? (Laughs). I don't know all the titles of their songs, but I know that one. I don't even know who Daft Punk is, except that they wrote the soundtrack for Tron. How about "North American Scum"? People would crack up at that.
AD: Yeah, that's not entirely fitting with your squeaky-clean image.
Dale Murphy: I guess I just have to default to Wilco. But "Bull Black Nova" wouldn't really do either, would it? What is that song even about? It's freaky. Hmm…maybe "Heavy Metal Drummer"? Or just "The Wilco Song"? Yeah, that would be it. | j kress
Only the good shit. Aquarium Drunkard is powered by its patrons. Keep the servers humming and help us continue doing it by pledging your support via our Patreon page.