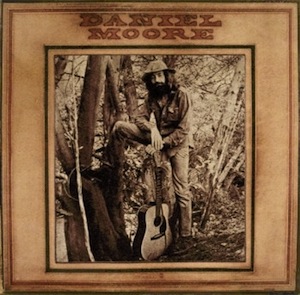 Daniel Moore is one of countless songwriters in the history of early rock and roll music that, despite attaining a measure of financial success through their material, never quite made a name for themselves as artists in their own right. It's a rather old and tired tale, but what makes Moore's story so much more frustrating is that in the midst of penning bland, superficial radio hits for artists like Three Dog Night and B.W. Stevenson, he also crafted one of the greatest 'back to the roots' records to come out of the early seventies.
Indeed, the songs found on Daniel Moore's 1971 debut completely eschew the irritating soft rock sensibilities that scar his more famous material. We're talking homegrown music here, weaving together the sounds of country, soul and blues into a tapestry that Gram Parsons once beautifully coined, 'Cosmic American Music,' From the very first tune, the haunting dirge "May 16, 1975," it is clear that Moore had been keeping the Band's first two records hot on the turntable, for the rustic vibes and mythical American spirit of those albums are everywhere. Not to say that this record is derivative, it will only take a single spin to recognize that this album stands very much on its own. From the horn-fueled rock and roll of "That's What I Like In My Woman," a spirited ode to wild and independent girls, to the oddly Zombies-esque ballad "Paul and Mabel," about a preacher who "tried farming, and only grew failure," Moore pieces together a compelling portrait of America.
As is the case with the best of all Americana, whether or not the world being invoked truly exists or is one founded in folklore and youthful romanticism isn't really important. In most cases it's as much about the message as the story anyways. The very last cut on the record, "Did I See You Tremble, Brother?", may be one of the simplest, yet most powerful songs of brotherhood I have ever heard.
But I'm getting ahead of myself. The second side of the record kicks up some serious dust with the rock and roll groove of "Funky Music," but afterwards the band drops off, and things disappear and settle into the lazy acoustics of "World War I." It should be noted at this point that the ragtag arrangements of background singers on these tracks really tend to capture that elusive, communal charm of the Band's earliest recordings. It's a beautiful sound, and one that can be hard to put into words. "Ride, Mama Ride" makes as if to continue the mood, with Moore's singing evoking something between Lowell George and a backwoods Van Morrison, but before you get too comfortable some funky electric guitar work picks up the tempo and brings back the heavy grooves. The cats playing on this record, I should add, consist of some pretty recognizable names, including Chris Ethridge and Sneaky Pete from the Flying Burrito Brothers, Chris Stainton, Don Preston, Jim Keltner, T-Bone Burnett, Jim Price, and, believe it or not, the 1969 cast of Hair.
Daniel Moore is still very active in music, and since the early 1990s has recorded a number of additional records, but despite its obscurity this still stands as his crowning achievement. I was in touch with the man himself a while back, inquiring as to whether or not this album would ever see a reissue on compact disc here in the States, but he replied that the record company still has control of the master tapes, etc, and he is extremely doubtful of its re-release. From what I can tell there is a rather obscure Japanese pressing available, but I'm not all that sure as to its background. If you are a fan of artists like the Band, Delaney & Bonnie, or Leon Russell you should really work at finding yourself a copy; the original vinyl doesn't appear to be too difficult to find online. words / n. rayne
MP3: Daniel Moore :: May 16th, 1975
——————
_____________________________________________________________________________________