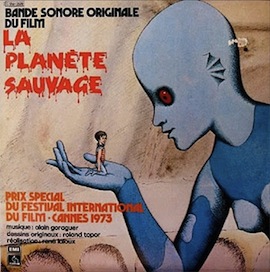 Alain Goraguer first made a name for himself as a sideman and arranger for Serge Gainsbourg, including the arrangement for Gainsbourg's 1966 Eurovision grand prize winning song "Poupée de cire, poupée de son." In 1972 he scored the bizarre and moving French language animated feature Le Planet Sauvage, released in the States as Fantastic Planet. The soundtrack blends funky psyched out jazz with gorgeous woodwind, choral, and string arrangements. There's also a few subtle appearances by the theremin.
The main descending theme appears many times, mostly on the flute or sung by an ominous choir. The standout example of the theme is "Le Bracelet," layering clavinet and vibes under a breathy flute, with spooky pauses thrown in. If you brave the chaotic opening of "L'oiseau," you'll hear some beautifully dissonant glissando strings which break into an incredible version of the main theme, this time over a major key. Tenor sax solos make brief appearances here and there and there are some songs that could be outtakes from Obscured By Clouds or Dark Side of the Moon. The solo on "Générique" would be a dead ringer for Gilmore if not for the sighing strings beneath it.
The songs which deviate from variations on the main theme are the most interesting, with "Conseil de Draags" and the breathtaking psyched out waltz "Le Fusées" definitely some of the best of the 25 songs here. The jazzy "Strip Tease" comes to life in a brilliant mix of flute and sax in the middle section, married beautifully to the animation in the third act of the film.
Perhaps because of its function as a film score it may come across more progressive than intended, but I think it's that twist that allows the music to stand on its own. It's masterfully written and has not one boring moment. I highly recommend watching the film at least once. And see how long it takes before you start whistling the main theme. words/ f. maston (via)
MP3: Alain Goraguer :: Les Fusées
MP3: Alain Goraguer :: Strip Tease
———————
_____________________________________________________________________________________