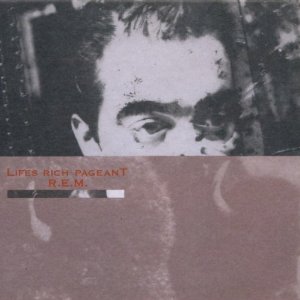 To the faithful—to the true believers—R.E.M.'s fabled five-album run on IRS Records was one of the strongest in contemporary rock/pop history. And in that run, 1986's Lifes Rich Pageant in many ways marked the end of an era as the group's next LP, Document, would find them sowing the seeds of the next phase of their career — their move to both Warner Bros Records and worldwide acclaim.
But wait, let's back up a bit.
Beginning with their first EP, Chronic Town, it was evident that R.E.M. was something more than the sum of its parts. Any question of this was answered in the form of its follow-up, and debut LP, Murmur. Their emergence on the early 80s contemporary, if albeit underground, music scene left an enduring wake, one that we're still feeling today and most likely will for some time to come. From the Chronic Town EP through their third full length, Fables of The Reconstruction, R.E.M. continued to hone their immediately recognizable sound and aesthetic. Enter Lifes Rich Pageant.
Pageant has always sounded like the first hint of R.E.M. really trying to make a go of it on a more, if not mainstream, less subversive level. But as always there was the push and pull, the yin and yang of R.E.M.—a 'college rock' band with global aspirations.   Yes, the lyrics began to take on more overtly political/environmental stances, but hey, we can actually make out most of what Stipe is singing this time(!) Whereas its predecessor, the vastly underrated Fables, was gothic, weird and woolen, Pageant feels bright and airy; it has a spring in it's step. Even a song like "Fall On Me," reportedly written about acid rain, rings out like old hummable 60s pop song. This, the marriage of the political with the more radio-ready side of the band would continue to develop on 1987's Document and fully flourish on their Warner's debut, Green. But this is where the recipe started, a strange brew that would soon take the band around the world and back again selling out arenas.
Per the 2011 reissue, the real boon here is the remastered sound along with a second disc comprised of the "The Athens Demos." Similar to the inclusion of the Fables demos on that album's 2010 reissue, these provide an interesting look at where the material was prior to R.E.M. heading to Indiana to hook up with producer Don Gehman.
Reissue Specs: The 25th anniversary (2 CD) edition features the digitally remastered original LP, plus The Athens Demos—19 previously unreleased demo recordings cut prior to the album's studio sessions. The release also adds new liner notes, a poster and four postcards.   In conjunction with the release, a remastered version of Pageant will be reissued by Mobile Fidelity on 180-gram vinyl in faithfully replicated LP packaging.
_____________________________________________________________________________________