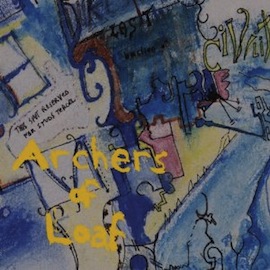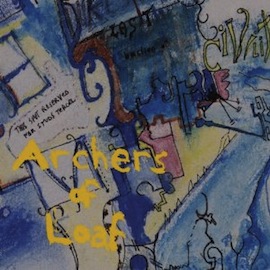 My biggest regret of 2011 (so far) is deciding I could skip the Love Language's show at the Cat's Cradle in Carborro, NC back in February. They had announced a special guest, but being that the Love Language is local, I figured I could miss a show and catch them again soon. Besides, how special could the guest be? The moment I received a text from my friend who was there ("Archers of Loaf are opening!"), my head hit the table.
Five, tight snare drum hits. That's the beginning of Icky Mettle. I won't even pretend to know what it's like to start your debut record with a certifiable classic rock song, but that's how it begins. "Web in Front" is one of Archers of Loaf's most well known songs for a reason. It's short, it's catchy, it rocks, it's easy to sing along with – it's downright anthemic. And yet despite lead singer Eric Bachmann's success over the past decade as Crooked Fingers, Archers of Loaf have hovered somewhere in the second tier of 90s American indie-rock. Somewhere alongside Chavez and Shudder to Think. Maybe that's why Merge Records, located as it is in the same North Carolina that birthed the Archers, has decided to right that wrong by re-releasing Icky Mettle in a two-disc expanded edition. 18 years is a long time; people need reminding.
As timeless a lead-off track as "Web in Front" is, the rest of the record is a reminder of just how different the indie-rock landscape is all these years later. To put it bluntly: nobody sounds like this anymore. Nobody. Take the second track, "Last Word." Infused in the caustic guitar buzz of the song's chugging rage is something vaguely Middle Eastern – a relic created by a group of musicians who no doubt grew up devouring classic rock titans' obsession with Eastern mysticism alongside punk and its various incarnations. But they also had their ears to the current ground. "Wrong" takes the loud-quiet-loud ethos of the Pixies and barrels through its running time, building and building as any great rock song should (batting clean-up on the album as the third track, naturally). Archers of Loaf were obviously music geeks of the highest order.
The album is an amalgam of the catchy ("Plumb Line") and the raucous ("Sickfile"), the quiet-to-loud ballads ("Toast") and the big closers ("Backwash" and "Slow Worm"). It's balanced in ways great records are balanced; it's engaging the way great records are engaging. Icky Mettle is as fierce a defining representation of 90s indie as Slanted and Enchanted, No Pocky for Kitty and Sebadoh's III. Which also means that it sounds dated. This works a couple of ways. As an essential artifact of the time, it's still just as blisteringly good as it was then. However, as an essential artifact of the time, it sounds just like the time – and nobody sounds like this anymore. Nobody.   words/ j neas
MP3: Archers of Loaf :: Web In Front
———————
_____________________________________________________________________________________