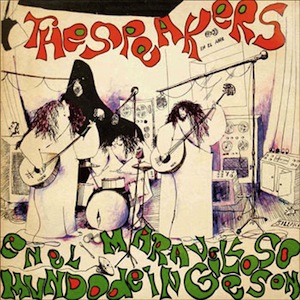 There is no doubt in my mind that the Speakers were one of the finest rock bands Colombia ever produced. Prior to Ingeson they had released 4 albums, the first 3 LPs mixed rock & roll covers with two or three beat garage/folk-rock group originals. All of their records are sung in Spanish and by the group's forth LP they were concentrating exclusively on group originals and experimenting with primitive psychedelia.
Their fourth, self-titled, album from 1968 was a major advancement for the Speakers, as it was crammed with excellent originals that mixed garage pop and acid-rock. Later that year the group released their final album, the psychedelic masterpiece En El Maravilloso Mundo De Ingeson (In the Wonderful World of Ingeson). A record such as this could only be released independently as it was way too far out for major labels to market. Ingeson was notable for being the first Colombian rock record to use multi-channel recording techniques which enabled the band to introduce all kinds of strange sound effects to the record buying public. When the LP was released in 1968 it came in a gatefold edition that included a 12 page full-color booklet with photos of the band by Danilo Vitalini, text, drawings, and even a replica of an acid hit(!) The album has a very cool lo-fi sound and its only misstep is the out of place "Historia De Un Loto Que," a silly blues rocker with sped up alien-like vocals. That being said, the rest of this record is great and as whacked out as any of the early Mutantes records.
While not fluent in Spanish, I understand Ingeson to have a concept running throughout the LP and the group never makes any compromises in regards to the album's lyrics. Some of the songs like "Reflejos De La Olla" and the beautiful folk instrumental "Nosotros" display a clear Colombian roots influence giving the LP its unique flavor. "Un Sueno Magico" (wild guitar distortion and treated vocals), "Oda A La Gente Mediocre" (killer brain-damaged psych), "Si La Guerra," and "Ninos" are all outstanding tracks and represent some of the deepest forays into Latin American psychedelia. The cheerful "Si La Guerra" in particular reminds me of something off the first Os Mutantes album while "Ninos" has an unhinged fuzztone solo about midway thru. There are also a few good psych folk-rockers in "No Como Antes" and "Salmo Siglo XX" that balance out all the madness.
A few years back Speakers' drummer Roberto Fiorelli shared some words with 60's rock fanzine Ugly Things. Of En El Maravilloso Mundo De Ingeson he said, "The version of the Speakers that included Oscar Lasprilla and myself was formed during the last months of 1967. Rodrigo Garcia, group leader, and Humberto Monroy had problems with their drummer, Edgar Duenas and they decided to replace him. We talked to the owner of Ingeson Studio, Dr. Drezner, who said we could use the studio free of charge during the night. In return we would have to use the word "Ingeson" any way we could. Since I was a professional studio drummer who worked there eight hours a day, I asked him: "What if we call the album The Speakers in the Marvelous World of Ingeson?" And Dr. Drezner replied, "You can start tomorrow!" The recordings alone took four months, from June through September of 1968. There was an abundance of percussion instruments, marimbas, xylophones, tabla, glass, bells, indigenous percussion all which were used on "Oda a La Gente Mediocore" (Ode to the Mediocre People). The promotion for this record was enormous: television, newspaper, radio talk shows, we did everything you could possibly do and the critics loved it and the end result…….only 800 copies were sold. Things went downhill after this experience. Rodrigo had enough of Colombia and returned to his native country – Spain (He joined Los Pekenikes and recorded their fourth lp). Humberto and I decided to form Siglo Cero. I worked in other musical ventures until Colombia de Fuego, a band that toured Europe and Russia in 1973. I left Colombia being the number one drummer. I really didn't want to return again and start from scratch. So I bit the bullet, I remained in my native country of Italy where I truly started again from scratch!"
Roberto continues to play drums professionally in Italy. In regards to band leader Rodrigo Garcia, everyone who knew him in Columbia thought he had died in combat fighting for the guerrillas in Central America during the 1970's. The elusive, eccentric Rodrigo Garcia was shocked to hear this and called it all "rubbish." He is still alive and well and has been recording in Spain.
Searching for originals is pointless as this classic is extremely rare and exchanges hands for outrageous sums of money. There have been two reissues of Ingeson though, the best being the pricey limited edition SalgaelSol cd (2007) which replicates the original mini lp gatefold, text, photos and placebo acid hit. words/ j. nardelli (via)
MP3: The Speakers :: Nosotros Nuestra Arcadia Nuestra
MP3: The Speakers :: Un Sueno Magico
———————
_____________________________________________________________________________________