(Sevens, a recurring feature on Aquarium Drunkard, pays tribute to the art of the individual song.)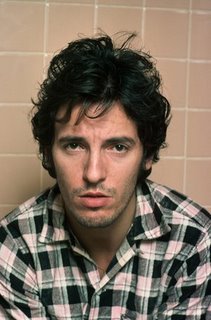 Johnny Cash did it, and nearly turned it into a hymn. John Mayer did it, and sweetened the notes until it sounded like Paul Simon. The dance-punks in Electrelane and the power-punks in The Motorettes both tinseled it up with distorted guitars. And fellow Jersey Boy Brian Fallon fed it through a tremolo pedal and damn near touched his hero's garment. But in the end, they all come up wanting: "I'm On Fire" will always be Bruce Springsteen's.
"I'm On Fire" was the fourth single released from Born in the U.S.A., sandwiched between the title track and "Glory Days." Aside from the heavy presence of Roy Bittan's synth, the song seems to have little in common with its cohort. "Born in the U.S.A." and "Glory Days" were and still are stadium-sized rockers built on insistent drumbeats and outsized choruses; "I'm On Fire"'s chorus, by contrast, consists of a single line tagged onto the end of the verse and characterized by a gentle "ooh-ooh-ooh" from the Boss.
But Born in the U.S.A. is an album about longing, whether that longing is for justice, freedom, or peace. "I'm On Fire," then, with its mists of synth and tick-tack guitar line, its cooed lyrics, and that final few seconds whose glistening suggests a stopping point if not an ending, is perhaps the album's secret lodestar.
Springsteen's early eighties transformation from rock 'n' roll classicist to humble human is well-documented. Starting with The River's title track and continuing through the Nebraska sessions, the singer, infatuated with the writing of Flannery O'Connor and Howard Zinn and the music of Suicide, began to diverge from the romanticism of his youth. While sexual longing had been present in Springsteen's songs at least as early as Greetings From Asbury Park, "I'm On Fire" is the first song in his catalog to express the anxiety of unrequited love as a kind of suffering, rather than a kind of freedom.
The song begins as a straightforward appeal from a single man to an anonymous woman who is either married or seriously involved. And while the singer makes it perfectly clear who the woman prefers–"Can he do to you the things that I do?"–their future is uncertain. Bittan's washed-out synth underscores the point, at times obscuring the path of Springsteen's finger-picking. The singer's voice pierces the synth field like a lantern through the fog, but swings in and out of confidence. "It's like someone took a knife, baby, edgy and dull, and cut a six-inch valley through the middle of my soul," he sings in the bridge. The tension between the desire and its consummation is almost unbearable, and as the song clicks out under Springsteen's howls, Bittan tweaks his keys. A single bright note cuts through the muffled soundstage he's created, reframing the singer's lamentations. It's a moment of minor grace–the closest the song comes to an answer–and is to us unknown. words/ m garner
_____________________________________________________________________________________