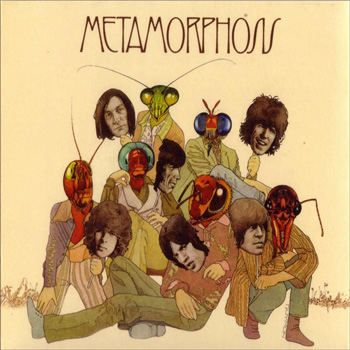 For reasons unexplained, officially-sanctioned outtakes from the Rolling Stones' Decca Records (a.k.a. London) period remain as rare as rocking-horse manure. Although to date no fewer than 23 compilations of their '63-'70 material have been issued worldwide, the number of cuts on these which were not used on the scheduled studio releases can be approximately counted on the fingers of one hand — with one notable, noble exception.
At first glance, Metamorphosis, with its Kafka-derived cover art, is just one of the many "exploitation" back-catalogue collections issued by Allen Klein's ABKCO Music in the wake of the Stones' defection to Virgin. But where Metamorphosis differs is that it consists completely of studio material unavailable elsewhere — including possibly the meagre sum total of the album-session outtakes remaining from the sixties. These include a cracking cover of Chuck Berry's "Don't Lie To Me" with rollicking piano by Ian Stewart, and the stomping, Motownish original "Try A Little Harder," both of which inexplicably got left off their 1964 LP releases; a strange alternative take on "Heart Of Stone" with pedal steel (by Jimmy Page?); a funky alternative punt (to that used in performance and subsequently issued as a UK-only Mick Jagger solo single) at "Memo From Turner" featuring Al Kooper and possibly Steve Winwood; and three unused cuts from the sessions for Let It Bleed plus one each from Aftermath, Beggars' Banquet and Sticky Fingers. For rarity freaks these include the gloriously sloppy "Downtown Suzie," one of only two Bill Wyman songs ever committed to tape by the band, with open-G guitar supplied by Ry Cooder, and a fine cover of Stevie Wonder's "I Don't Know Why" taped the night Brian Jones died featuring slide guitar solos from both Keith Richards (recorded earlier) and Mick Taylor (overdubbed later).
And that's only half the story. Almost half the album consists of demos of songs penned by Jagger and Richards, but intended for other artists to record, during the Twins' first fertile period as writers around 1965 (several songs from that year's Aftermath album were similarly covered). These were cut under Andrew Loog Oldham's tutelage with Jagger vocalising and backings provided by sessioneers and studio guests including Jimmy Page, John Paul Jones, Clem Cattini, John McLaughlin, Tony Hicks and Graham Nash. Jagger sings "Out Of Time" over the actual string-laden backing track used by Chris Farlowe for his UK no. 1 and "Each And Every Day Of The Year" over that used by Bobby Jameson, and on demos of "Some Things Just Stick In Your Mind," "I'd Much Rather Be With The Boys," "(Walkin' Thru The) Sleepy City" and "We're Wastin' Time" which were realised with new backings respectively by Dick And Dee Dee, the Toggery Five, the Mighty Avengers and (honestly) Jimmy Tarbuck.
So how worthwhile are the sixteen genuine rarities here? Well, the demos are all pretty good, the songs certainly strong enough and the backings sophisticated enough to have made it as single releases under Jagger's name, apart from the uncharacteristically wimpy "I'd Rather Be With The Boys" (credited to Oldham rather than Jagger as co-writer). And it's genuinely hard to decide why the excellent band originals here were sidelined in favor of the tracks that made it on to the albums. The schizoid chronology of this collection (mostly 1964-65 and 1969-70) makes it an uneven rather than a homogeneous listen, but any serious collector of the Stones' oeuvre needs to own these tracks. words/ l. liechti
Only the good shit. Aquarium Drunkard is powered by our patrons. Keep the servers humming and help us continue doing it by pledging your support via our Patreon page.