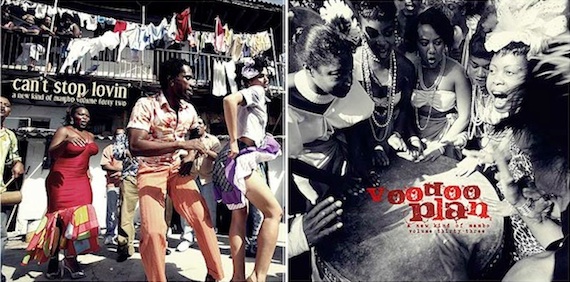 – Over the weekend I donned my correspondent cap for FOK and hit up the Arts & Leisure closing party event at Space 15 twenty in Hollywood. My findings are now online.
– Remember those homemade, New Kind of Mambo, compilations I raved about last summer? No? If not, dig in here. Their are now thirty more volumes available for download, each one heavily stacked. Links after the jump.
– The mighty Awesome Tapes From Africa is set to begin releasing records this Fall. Their first entry is Malian singer Nî¢ Hawa Doumbia's La Grande Cantatrice Malienne Vol 3 — an album she recorded in 1982.
– Soul Sides remembers the late Nickolas Ashford and Jerry Lieber with a selection of personal favorites.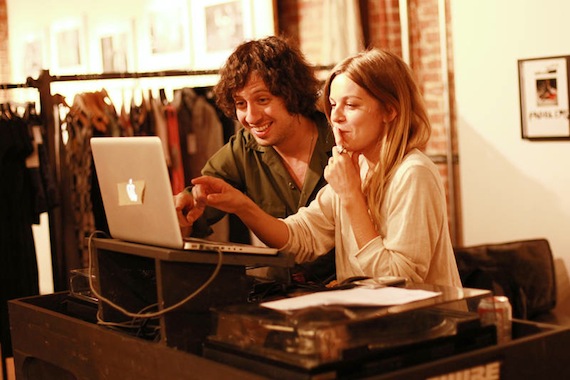 Adam Green and Binki Shapiro (click here for a selection of additional photos from the night)
New Kind of Mambo: Volume 01–50
"ROMPIN' RHUMBAS" A New Kind Of Mambo, Vol. 01
"HAVANA HOP" A New Kind Of Mambo, Vol. 02
"JUNGLE DREAMS" A New Kind Of Mambo, Vol. 03
"HEY SENORITA" A New Kind Of Mambo, Vol. 04
"MAMBO DIABLO" A New Kind Of Mambo, Vol. 05
"TEQUILA SLAMMERS" A New Kind Of Mambo, Vol. 06
"LOUISIANA 3 AM" A New Kind Of Mambo, Vol. 07
"LOOSE CABOOSE" A New Kind Of Mambo, Vol. 08
"CRAZY BLUES" A New Kind Of Mambo, Vol. 09
"NITTY GRITTY" A New Kind Of Mambo, Vol. 10
"SHUFFLIN' HUNGARIANS" A New Kind Of Mambo, Vol. 11
"DYNAMITE AT MIDNIGHT" A New Kind Of Mambo, Vol. 12
"GARAGE CHA-CHA-CHA PUNK UNKNOWNS" A New Kind Of Mambo, Vol. 13
"TOO MUCH TEQUILA" A New Kind Of Mambo, Vol. 14
"WHY WAIT" A New Kind Of Mambo, Vol. 15
"SHOWSTOPPIN' BOOGALOO" A New Kind Of Mambo, Vol. 16
"MEXICALI BABY" A New Kind Of Mambo, Vol. 17
"LOVE CHARMS" A New Kind Of Mambo, Vol. 18
"CHA CHA LA NEGRA" A New Kind Of Mambo, Vol. 19
"POW WOW" A New Kind Of Mambo, Vol. 20
"IT'S SHAKIN' TIME" A New Kind Of Mambo, Vol. 21
"IN THE NIGHT" A New Kind Of Mambo, Vol. 22
"THAT'S WHAT I WANT" A New Kind Of Mambo, Vol. 23
"RITMO CALIENTE!!" A New Kind Of Mambo, Vol. 24
"BOOGALOO GIRL" A New Kind Of Mambo, Vol. 25
"ANNA MACORA" A New Kind Of Mambo, Vol. 26
"MAMBO UPROAR" A New Kind Of Mambo, Vol. 27
"CAMEL WALK" A New Kind Of Mambo, Vol. 28
"STICKY!!" A New Kind Of Mambo, Vol. 29
"AFRODESIAC JAZZ" A New Kind Of Mambo, Vol. 30
"TWO WAY POC AWAY" A New Kind Of Mambo, Vol. 31
"MORE SALSA!!" A New Kind Of Mambo, Vol. 32
"VOODOO PLAN" A New Kind Of Mambo, Vol. 33
"FANTASIA" A New Kind Of Mambo, Vol. 34
"BLUES FOR CUBA" A New Kind Of Mambo, Vol. 35
"ROOM TO RUMBA" A New Kind Of Mambo, Vol. 36
"EGYPTIAN CHA-CHA" A New Kind Of Mambo, Vol. 37
"ME GUSTO" A New Kind Of Mambo, Vol. 38
"WILD STREAK" A New Kind Of Mambo, Vol. 39
"JUMPIN' IN ISTANBUL" A New Kind Of Mambo, Vol. 40
"SHAKE DANCE" A New Kind Of Mambo, Vol. 41
"CAN'T STOP LOVIN'" A New Kind Of Mambo, Vol. 42
"LEAVIN' HERE" A New Kind Of Mambo, Vol. 43
"RASCALS GOT FIRE" A New Kind Of Mambo, Vol. 44
"BECAUSE YOU'RE MINE" A New Kind Of Mambo, Vol. 45
"CUBAN CAFE" A New Kind Of Mambo, Vol. 46
"RITUAL DANCE" A New Kind Of Mambo, Vol. 47
"HONG KONG MISSISSIPPI" A New Kind Of Mambo, Vol. 48
"VIVA ZAPATA!" A New Kind Of Mambo, Vol. 49
"TEMPTATION" A New Kind Of Mambo, Vol. 50
_____________________________________________________________________________________