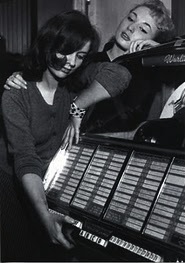 Our weekly two hour show on SIRIUS/XMU, channel 35, can now be heard twice, every Friday — Noon EST with an encore broadcast at Midnight EST.
SIRIUS 210: Jean Michel Bernard – Generique Stephane ++ Braids-Lemonade ++ Azeda Booth- In Red ++ Baths- Lovely Bloodflow ++ Kurt Vile- Freak Train ++ Tijuana Panthers- Crew Cut ++ The Babies- Wild 2 ++ The Strange Boys- MLKs ++ Shannon & the Clams- Old Man Winter ++ The Vaselines- You Think You're A Man ++ Hunx and his Punx- You Don't Like Rock 'n' Roll ++ Twin Shadow- Castles In The Snow ++ Mi Ami- Latin Lover ++ David Bowie- Oh! You Pretty Things ++ The Crystals- He's a Rebel ++ The Marvelettes- Beechwood 45789 ++ The Happy Hollows- Tambourine ++ Screaming Females- I Don't Mind It ++ The Coathangers- Bury Me ++ Ty Segall and Mikal Cronin- I Wear Black ++ The Handsome Family- Giant of Illinois ++ Mavis Staples- You Are Not Alone ++ Wilco- Company In My Back ++ Fruit Bats- Seaweed ++ Bleached — Dazed ++ The Damned — New Rose ++ The Starlets — You Don't Love Me ++ Dum Dum Girls — Those Eyes (Vagrants Cover)   ++ The Tallest Man on Earth- Love is All ++ La Sera- Hold ++ Kitchen Hips- Be Leaves ++ Summer Twins- The Good Things   ++ Glass Cake- Truly ++ Thao & Mirah- Eleven (feat. Tuneyards) ++ Slutever – Seventh Grade ++ Grass Widow- Old Disguise
*You can listen, for free, online with the SIRIUS three day trial – just submit an email address and they will send you a password.
_____________________________________________________________________________________