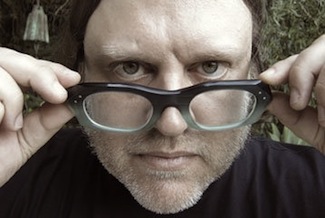 It's hard to believe, in some ways, that it's been 25 years since Matthew Sweet's solo debut. Possibly even harder to believe it's been 20 since his career-breaking album, Girlfriend. Regardless, the perennial high priest of power pop returns September 27th with his eleventh LP, Modern Art. AD spoke with Sweet over the phone about the new album, surviving as a pop writer in the music industry, taking Girlfriend out on the road and the perils of listening to your old work. At the bottom, check out the Aquarium Drunkard premiere of "Late Nights With The Power Pop" from Sweet's upcoming album.
Aquarium Drunkard: You have a new record, Modern Art, which will be out on September 27th on Missing Piece Group. It sounds like an amalgam of a lot of your past songwriting. There are particular songs – "She Walks the Night" reminds me of parts of In Reverse and "When Love Let's Go, I'm Falling" reminds me of "You Don't Love Me" from Girlfriend – that feel like they come from certain eras, even while sounding like your recent recordings. Is that something you consciously feel, or is it that your whole body of work has pulled from similar sources over the years?
Matthew Sweet: Well, probably both things. To some extent, you're you, and there's only so much you can do to try and change that. [laughs] On the other hand, sometimes I might have a knowledge of that. When you mentioned "You Don't Love Me," "When Love Let's Go.." felt really heavy to me in kind of in the same way, I guess. It especially sticks in my mind because I was singing that song when my wife came in and told me that Alex Chilton had died. It's strangely apropos. That little moment sticks in my mind, even though that song was already written and had the vibe and everything. It's not something I think about a lot. I might think "Oh, this is a 'I've Been Waiting' sort of song," or something like that, but not real specifically.
AD: Speaking of Chilton, the song does remind me of some of the darker ballads from Big Star's Third.
MS: It made me really think a lot about Big Star's influence on me. I was listening to that album as a senior in high school. I went last spring and sang on a performance of Third in New York City that Chris Stamey of the Db's organized. Guys from REM were involved – Mike Mills played bass – and Jody Stephens, Big Star's drummer, was kind of an anchor. And it made me think a lot about their influence on me. It really made it hard for me to imagine not having heard those dark ballads. Just to know you could go there – that's why Chilton was one of my main guys. He could do all sort of emotions – he could be funny and cynical or honest and straightforward, or he could go really dark and morbid. Guys like John Lennon – people I really admire – could do that sort of stuff.
During the time Big Star got its big revival, I kind of felt like I kept quiet about the amazing amount of influence they had on me because it seemed like everybody was having a big influence from them. Nobody needed another guy going on about it. Whereas, when I go back and look at them, it feels really important.

AD: The new album has this recurring theme of memory – whether immediate, strong memories or how they fade, or how they can be sharp and poignant or how they can be misleading.
MS: That sounds right. Why I get into that, or why I do that is harder for me to say. In particular on this record, I thought about things very little and instead went for whatever basic feeling I had for things. Part of it is getting older and feeling like its time to look back a little bit, but then partly I'm a person who only looks forward and I think 'memory schmemory,' you know. [laughs] So, it's a mixed emotion about it that leads to the various ways I come at it.
AD: The title track especially, coming as late as it does in the record, feels like it wraps up the idea. You sing "took a little piece so I won't forget you / abstract like the world around you." It's almost as if keeping those memories, they eventually become abstract as they become separated from the people they're connected to. You named the album Modern Art, so did you feel particularly strongly about it as representing the album's theme?
MS: I don't know. I liked it in various ways. "Modern Art" felt like now, like the difficulty of interacting with the world and things going by very quickly. In the chorus, it questions how we go about expressing ourselves and knowing each other now, in a world where it does become more abstract in a strange way. Memories, generally, I look at them and think that they're nothing like the original. That kind of gets mentioned as well. For "Modern Art," that felt right to me – struggling to find the heart in something abstract. I wanted the record to be weird and jarring in certain ways, but I didn't want to lose the feeling in it. So you probably feel me trying to get into feelings in these strange places. But "Modern Art" was this tone poem thing where I played piano for half an hour and then I kind of pieced together some sections of what I played and made up the song over the top of it. It wasn't a song that was born as a song as much as a little bit of an idea for a song and built into that structure.
AD: There are several songs on the record that feel that way. "Late Nights With the Power Pop" does that in similar ways.
MS: Yeah, it has almost a thing that reminds me of records I loved when I was a kid like A Quick One by the Who where they had all these little ideas. The funny thing in that and some other ones that seem to be cobbled together from different sessions even, is that they were done as a whole. A few songs, when I was making the song – I'll make recordings when I'm brainstorming – I went back to some of those brainstorming tapes where I would usually just go back and find sections to make songs out of it – instead I imitated all the weird things I did the first time I made it up. It'll go to some section that never happens again. So some of the songs on the record seem like stream of consciousness mirrors and they seem very fractured in that way.
AD: What musicians played on Modern Art with you?
MS: The lead guitar player is a guy named Dennis Taylor. He and I met through the Bangles and did some touring with me and Susanna Hoffs doing acoustic shows. Then I started having him play some electric guitar and he blew my mind. So he plays a lot on the record. Ric Menck plays all the drums except for "Ivory Tower" which is a track that Fred Armisen sent me. I met him on the set of Mad Men when I got to visit – at the time he was engaged to the actress Elizabeth Moss who plays "Peggy" on the show – and he happened to be visiting there as well. So I talked to him and a couple of times I appeared at comedy shows he did in L.A. over the last couple of years. When I began working on Modern Art, I encouraged anybody to give me bits and pieces of things and he sent me two or three tracks. I had this song that fit on that track just perfectly, so I never did anything to his drums. The song just goes to them.
AD: As a long time listener, it seems like 1999's In Reverse marked a big turning point in your approach in the studio. Was that a big change in terms of recording for you?
MS: It was the last time we had a big budget for a studio record, so it was approached differently in that I had this whole group of my friends I brought in to record with. After that, everything is basically homemade. There's definitely a freedom that came after that time. Before then, even though I didn't succumb to it, there was an implied pressure from the labels or whatever powers wanted to see it bigger than it was. For me, having a time where things eased up was really good. You probably find me in a much better mood on later stuff. [laughs] Also, whereas I probably wasn't encouraged to do heavy, "You Don't Love Me"-type stuff early in my career, I have more freedom to do those things and go a little further with them now. I don't know.
You know, to some extent, I wouldn't say it ever influenced me, but the annoyance of having that feeling is the pressure. I never really understood how I could change something about myself to be more popular. That whole concept didn't work for me. And the pressure is very abstract and vague. They don't really know what to tell you either. [laughs] It just always needs to be bigger. I guess it was that mentality that helped bring down the record business. The miracle was that technology allowed for someone like me to still make records. And now to some extent, everyone can make a record and it'll never be that way again.
AD: It's kind of funny to think about how pop has changed in that sense. The stuff you're writing was directly influenced by Big Star, who also had their struggles with commercial success, but they came out around the same time as The Raspberries or were influenced by the Beatles and such that found big commercial success and was similar in certain ways. What sort of pressures were even those successful people feeling from their labels? Was that music constructed someway under that pressure?
MS: There are a couple of ways. Probably the old-school, early 70s viewpoint of the label was "find the thing like the other thing, have a hit single on a record and then who cares." I imagine it wasn't easy for anyone. Time moves so quickly and even when you have a big thing, it's over once it happens. It's a bad way to try and survive, by having hits. The likelihood you can really continue that is really small. It used to be small, but probably a whole lot bigger when there was an industry that could support the amount of record sales where you could come back and have comebacks and stay around and have a place. I think that's probably more difficult now. The industry, the money, just isn't there to support it. Again, being free of the money has to be good for music. It just has to be.
AD: This year is the 20th anniversary of the Girlfriend album and you're going to do some special things on the upcoming tour for that.
MS: We're basically playing the whole album, which we never did back in the day, so Modern Art will get sort of shafted because, any way you look at it, Girlfriend takes a lot of time to play, so there's only so much we'd have time to play. Which is maybe sort of great because it would take a lot of time to learn. Some of the songs on Modern Art are pretty difficult and it would take me having to go back and re-learn how to play them. But we're playing the whole Girlfriend album. It was my idea, but now I'm wondering what I was thinking. [laughs] The touring band is Ric [Menck] and Paul Chastain from Velvet Crush on drums and bass and Dennis [Taylor] on lead guitar, so it's just four of us. We've gone through birth by fire, because we went and played it a couple of times in Spain last week. It seemed to go off really well and at least the Spanish fans seemed excited once they realized what we were doing because kind of no one had told them. [laughs]
AD: You said earlier you tend to live in the present, so does the anniversary really mean that much to you?
MS: I guess what's cool about it is that I don't feel that different. When I was finally forced to listen to some of it, I was like "oh, you know, this isn't bad." It doesn't make me as horrified and freaked out as I'd think. Normally when I finish a record, I try to never go listen to it again because I never want to lose my good memory of it. I don't go back very much, but going back to Girlfriend, it doesn't make me feel that different. I'm pleased that it's as much, sort of, me as it is. I guess because it was a really emotional time and a lot of emotions are expressed on it. It was also before I had a lot of pressure and I was still getting to go into the studio and experiment. So it feels like a natural thing to me. It doesn't feel like it's moldered by the times or anything.
AD: So do you feel like you still identify with the Matthew Sweet that wrote and recorded that record 20 years ago?
MS: I think I do. I feel like I'm the same person. I don't feel like it's so foreign that I think of him as a different person. That's comforting, because that's what I would dread – looking at this other person and having this completely foreign feeling about it. For as much as we think we change and we try different things, at least for me as a songwriter and a singer, you are kind of a certain way and if you keep at it, you'll find that way again and again. You kind of have to care about making music for yourself.
AD: At this point it's been 25 years since your first solo record – 1986's Inside – and that's a long time to be working in any field, no matter what you're doing. So at this point, what goals do you still have for yourself? Is it difficult to find new avenues to pursue?
MS: I think, some days, you feel like "what am I doing?" And other days you feel like doing something. That's life in general to me. I remember when I liked other artists when I was a kid and thinking "why aren't they still great like they were?" [laughs] So I always have that worrying me a little bit, like, "don't totally suck." I keep a youthful attitude about it and I discover new things whenever I'm writing and singing. So for me, keeping doing what I'm doing is the main goal. Doing musical stuff, making pottery like I've learned to do as a hobby, and having the urge to live every day and experience life. I suffer from bipolar disorder, although I've been treated for a long time – that's always nagging. It would always be easy to sink down into depression and accomplish nothing, so I'm always fighting against that. Maybe it gives me more will to fight if I sort of have to. To me, there's not a set goal of the amount of years – 25 years sounds like a long time, but, you know, 30 years is longer. [laughs] Let's start the next 5 years and try and get through them. If you don't try to look too far ahead, things probably move a bit more slowly than if you're constantly worried about the future. words/ j neas