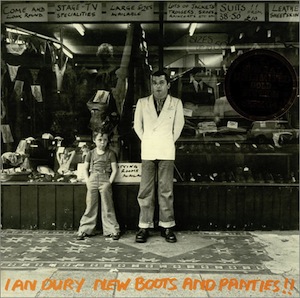 In the wake of pop's rediscovery of itself, prompted by the blitzkrieg success of punk, 1977 proved to be a banner year for debut albums. Most of the artists concerned were promising newcomers, but a fair number were veterans in new guises. In the UK, musicians who had cut their teeth in the back-to-basics pub-rock bands of 1973-75 recombined into new units or declared themselves solo artists and, riding on the New Wave of energy generated by punk, sought to combine their established chops with its novelty, brevity and audacity. While the younger hardline punks disdained all previous genres for ground-zero three-chord originality, the second-time-around outfits leavened the new energy with earlier styles; the Stranglers displayed a clear Doors streak, Elvis Costello evinced more than a pinch of Gram Parsons, and the Motors borrowed heavily from both the Beatles and the Byrds.
Former Kilburn & The High Roads frontman Ian Dury took his lyrical influences from the music hall performers of the thirties and the Carry On films of the fifties, filtered through Ray Davies's wry observations of London society in the sixties, to produce a uniquely English, witty product which nonetheless chimed with the impending social upheavals of the late seventies in true punk fashion. Like the Kinks' mid-term catalogue, Dury's songs portrayed contemporary suburban characters and their lifestyles but, eschewing Davies's gentle, rose-tinted, middle-class mockery, Dury unashamedly painted his subjects in stark black-and-white with all the sexual innuendo, scatology, and profane language of the working-class Cockney. The contrast was heightened by the presence of the Blockheads, a killer backing band who could deploy their formidable and highly danceable playing skills effortlessly in the directions of jazz or art-rock, soul or reggae, disco or doo-wop as befitted the song in hand. Guitarist-keyboardist Chaz Jankel also provided the music and arrangements to Dury's lyrics; bassist Norman Watt-Roy and drummer Charley Charles were a fearsomely tight rhythm section, whilst seriously leftfield saxophonist Davey Payne took his deranged cues from Roland Kirk and Ornette Colman.
The debut album New Boots And Panties and non-album single "Sex And Drugs And Rock And Roll," credited only to Dury but featuring the Blockheads throughout, immediately scored glowing music press reviews in Britain, the scribes praising their originality, energy, theatricality and occasional unbridled venom (New Musical Express journo Roy Carr described the album as "Max Wall with a backbeat: Max Miller on mandies"). "Billericay Dickie," "Clevor Trever," "Plaistow Patricia," "Sweet Gene Vincent" and "My Old Man" are all affectionate and occasionally bawdy portraits to characters of Dury's acquaintance — some with names changed to protect the guilty – while "Wake Up And Make Love With Me" and "I'm Partial To Your Abracadabra," along with "Sex And Drugs And Rock And Roll" and its B-side "Razzle In My Pocket," both included on the deluxe CD reissue, are funny homages to Dury's favourite vices. For an example of Dury's poetic lyrical talent, in the tracks below contrast the lazy, loping alliteration in "Trever" with the stroboscopic acapella parts echoing the "black, white, black, white" theme in "Vincent." The cover art shows The Man posing archly in appropriate Doc Marten footwear outside a typically seedy East End men's outfitter's; the equally cocky-looking urchin with him is his son Baxter, who would become a singer himself.
Whilst very much of the New Wave, the highly original, uniquely theatrical and impressive musical qualities of New Boots And Panties render it apart from the best of the rest. Though yielding many more individual gems, notably the tremendous hit singles "Reasons To Be Cheerful, Part 3" and "Hit Me With Your Rhythm Stick," the consistency of Dury's subsequent work would suffer from the departure of Chaz Jankel, whose relationship with the frontman had always been somewhat spiky, and from Dury's own physical deterioration as his uncompromising rock'n'roll lifestyle took its toll on his polio-weakened body. words / l. liechti
MP3: Ian Dury :: Clevor Trever
MP3: Ian Dury :: Sweet-Gene-Vincent
____________________________________________________________________________________