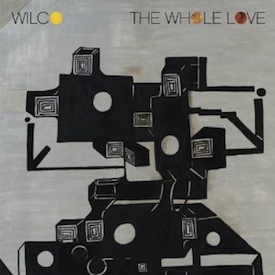 It used to be possible to think about a new Wilco record simply by noting how much enjoyment it yielded. AM, Being There, Summerteeth–these are all interesting records that are technically challenging and ambitious in their own ways, but they're also primarily pop records, written and performed for our entertainment. That all changed with Yankee Hotel Foxtrot, of course, when the Chicago group–of whom only Jeff Tweedy, John Stirratt, and Glenn Kotche remain, joined now by Nels Cline, Mikael Jorgensen, and Pat Sansone–deconstructed themselves and, perhaps along with it, the way we think about pop music as art. The literary critic T.W. Adorno famously said that there could be no poetry after Auschwitz; those of us who deal in the less-serious world of indie rock might say that after Yankee Hotel Foxtrot, there can be no levity.
Of course, Yankee Hotel Foxtrot doesn't shoulder all of the blame. The record was first made public on September 18, 2001, exactly one week after the planes. The lyrics that at the moment seemed so timely, so eerily prophetic–tall buildings shaking, the ashes of American flags–don't seem nearly as prescient now as the record's underlying sense of fear and melancholy. Tweedy's singing–the mere act of his shaping a melody–while behind him the entire structure of traditional pop music fell apart in plain view seems now like the record's truest act of heroism. The recent ten-year remembrances aside, our visual reminders have more or less disappeared, but it's that underlying confusion, and the tension we feel as we try to hold it together, that still lingers, resonating like a string after the bow.
So it's no surprise that Wilco has fallen on tough times, at least as far as the internet is concerned. Sky Blue Sky seemed to have been accepted on the condition that the group would not in the future replicate its contented, domestic strumming, and 2009's Wilco (The Album) passed largely on Tweedy and Nels Cline's tense guitar work in "Bull Black Nova." While both albums–particularly Sky Blue Sky–were enjoyable enough in their own right, both lacked that sense of anxiety and conflict that lent Yankee Hotel Foxtrot (and, to a slightly lesser degree, A Ghost Is Born) a perceived sense of dignity and honesty. Quite simply, songs about folding clothes won't fly anymore. In America, it is becoming increasingly difficult for us to accept the possibility of innocence; that there might be some kind of simple grace in domestic life, say, seems vulgar in the face of what we now know about the world. We can never go back.
From the opening thromb of "Art of Almost" to the closing swishes of "One Sunday Morning," the desire to find grace after pain is the overwhelming theme of The Whole Love. The record pushes and pulls between moments of confusion and fear and clarity and joy, rarely staying in any one place for long. "Art of Almost" gears up like a plane taking off–the clicking of Kotche's muffled bass drum mirrors the visual tick of the ground passing by; Mikael Jorgensen lays down an engine thromb of keys until the song takes off in a swell of strings, breaking through into Tweedy singing almost by his lonesome. "No! / I froze / I can't be so / Faraway from my wasteland," he sings, as if cacophony were his blanket. The song tailspins into an unhinged guitar solo in the hands of Cline, accelerating at breakneck speed in its final moments.
"Art of Almost" is one of the most exhilarating and terrifying songs the band has ever recorded, and while The Whole Love doesn't bother trying to recreate its particular vigor, it does set the tone for what's to come. "I Might" juxtaposes festival-ready harmonies against a raunchy organ that could have been lifted from any anonymous frat-rock anthem, while Iggy Pop's scream–on loan here from "TV Eye"–punches up Tweedy's vocal. "Dawned On Me" is the kind of loose good-time rocker that's peppered recent Wilco records, but here the group coat the song in feedback. "I forget, then I know / I'd regret letting you go," Tweedy sings as Sansone coos a harmony. "Sometimes I can't believe how dark it can be." Later, Tweedy will whistle half a bar of the melody, stopping halfway through to acknowledge the moment–"So on / And so forth." It's an honest moment in a remarkably honest song; it acknowledges the immense pain of loss without fully giving itself over to it. Human love here is a fragile thing, forever wobbling on the precipice of the void. And yet, it keeps moving.
The Whole Love closes with "One Sunday Morning (Song For Jane Smiley's Boyfriend)," a twelve-minute narrative based around a simple acoustic guitar figure that slowly unfolds to reveal gentle vibes and light percussion. If "Like A Rolling Stone" was Dylan's noisy kiss-off to the folk music scene and -tradition that raised him, "One Sunday Morning" is Tweedy's inversed equivalent–the song revolves around a son's recollection of the falling-out between he and his father. But where Dylan is cocksure, towering on warbling keys and a swagger of harmonica, Tweedy sings nearly under his breath; that repetitive guitar run and the rattling percussion are the closest thing to filigree the song allows for. "Something sad keeps moving / So I wandered around," Tweedy sings shortly after the father's death. "I fell in love with the burden / Holding me down." The death of the father, the rejection of all he stood for, and the crackle in Tweedy's voice–all are devastating. "What I learned without knowing / How much more I owe than I can give," he sings as the song exhales. It's a song of remorse, of a very deep love whose full expression comes in its final few minutes, the music continuing well after Tweedy has said his final word.
There's a strange strength that permeates The Whole Love, even in its darkest moments. It's the feeling of having come through a long something, and that feeling is only palpable when the length and breadth and pain of that something is fully acknowledged. We aged instantly and most of us have spent the past ten years trying to understand what exactly just happened to a world that we thought we had under control. "I am the driver at the wheel of the horror," Tweedy sings in "Born Alone." "Mine eyes' deceiving glory / I was born to die alone." The whole of The Whole Love comes down to the rejection of that one adjective, to the steady crushing of that one flattering deception. It is the question to which Mavis Staples' Tweedy-penned song from 2010 is the answer: You are not alone.   words/ m garner
____________________________________________________________________________________