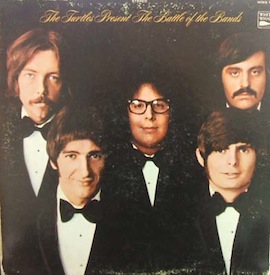 One of their very best, The Turtles Present the Battle of the Bands was released in 1968 off the White Whale label. The concept is pretty clear for once, with the Turtles presenting a different band on each track (greasers, a country band, surf rock group, indian tribe, psychedelicists, and so forth). This makes for an eclectic listening experience for sure but somehow the band makes the album gel together quite well.
Battle of the Bands is the kind of record that would have been too eccentric for top 40 fans but not underground enough for diehard freaks. Perhaps this is why Battle of the Bands never found the audience it deserved. It's a confusing, jarring album at first listen but eventually the band and their songs worm their way into your head like some strange, fatal disease. "Elenore" and "You Showed Me" (written by Gene Clark and Jim McGuinn) were big top 10 hits but very worthy in their own right, colored by a sarcastic sense of humor and gorgeous harmonies. If anything, these tracks prove the Turtles had a genuine gift of melody and a knack for creating 60s commercial pop gold. Other tracks like the semi fuzz guitar instrumental "Buzzsaw," the Beach Boys parody "Surfer Dan," and the wild, banjo-fuelled "Chicken Little Was Right" are over the top quirky rockers that are musically entertaining and overlooked highlights. "Food" reminds us of the Beach Boys' "Vegetables," a wacky, tuneful psychedelic track with a few primitive snyth stabs and lyrics that recite a brownie recipe. The album closes with an undisputed sunshine folk-pop classic, "Earth Anthem," which stands out for its pretty horn arrangement, heavenly harmonies, and sparse accoustic guitars. "Earth Anthem," also notable for its ecology theme, was supposedly recorded at 3am by candlelight, to capture the exact mood the Turtles wanted.
Battle of the Bands was a signpost to Flo & Eddie, and is an album where the band let loose creatively and showcased their unique brand of humor. It had all the ingredients that made the Turtles so great: lush melodies, flawless harmonies and fun, pop friendly sounds. The Turtles are one of rock's most severely underrated groups and anyone doubting this should really consider outstanding early tracks like "Grim Reaper of Love," "She'll Come Back," "Wanderin' Kind," "Outside Chance," and "She's My Girl" – all lost classics. Most of their catalog was reissued by Sundazed back in the early 90s but has remained out of print for years. Original vinyl lp's of Battle of the Bands are easy to score but a CD copy will cost you $50+. words / j nardelli
MP3: The Turtles :: Earth Anthem
MP3: The Turtles :: Chicken Little Was Right
Only the good shit. Aquarium Drunkard is powered by our patrons. Keep the servers humming and help us continue doing it by pledging your support via our Patreon page.