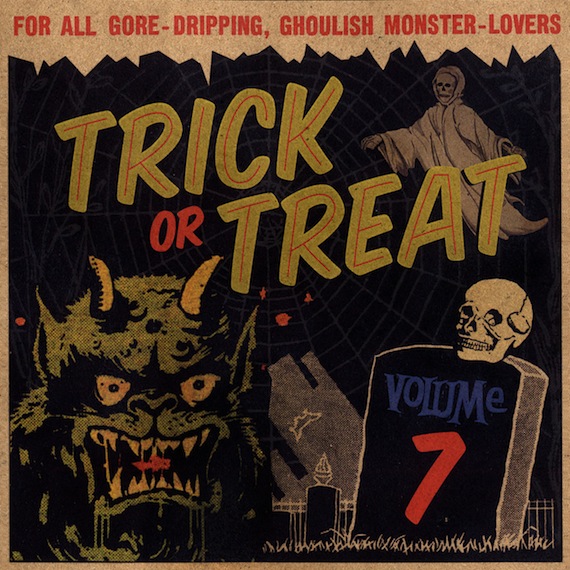 Best Halloween mix you're likely to see all season…courtesy of Grey Haas. Save a couple tracks the collection is comprised of 25 vintage spookers spanning 1958-1966. Tracklisting/download after the jump. Boo.

Download: Trick Or Treat :: Halloween Mixtape, Volume 7 (84mb)
Volumes five and six are still available here and here.
TRACKLISTING:
1. The Morgus Creep – Daringers (1964)
2. You've Become a Witch – The Electric Mess (2010)
3. Satan Is Her Name – Steve King (1962)
4. Zombie – The Big Guys (1964)
5. My Girlfriend Is A Witch – October Country (1968)
6. Mummy Walk (Walking Death) – The Contrails (1966)
7. Voodoo Woman – Kurtis Knight (1961)
8. The Voo-Doo Man – Johnny Perry (1963)
9. Death Of Mr. Monster – The Makers (1994)
10. Strange Happenings – Rex Garvin (1971)
11. Spooky – George Barnes (1962)
12. Gwendolyn and the Werewolf – Hutch Davie (1958)
13. House of Horrors – Merv Griffin (1962)
14. All Black & Hairy – Screaming Lord Sutch (1966)
15. That Little Old Graverobber Me – Don Hinson & The Rigamorticians (1962)
16. Ghost Train – The Swanks (1964)
17. Arabian Caravan – The Flames (1959)
18. Dead – The Poets (1958)
19. Scream – Ralph Nielsen & The Chancellors (1962)
20. Coffin Nails – The Ghouls (1964)
21. Horror Pictures – The Calvanes (1958)
22. Rayon Mortel – The Howlers (1964)
23. The Spook Walks – The Spooks (1966)
24. Return of the Vampire (The Bogey Man) – The Moontrekkers (1963)
25. Fear (Main Title From "One Step Beyond") – The Ventures (1963)
_____________________________________________________________________________________