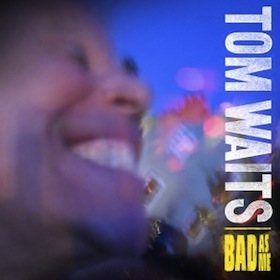 You'd be forgiven for not realizing it had been seven years since the last Tom Waits album of new material. Between the enormous wealth of fantastic, previously unreleased songs on 2006's Orphans boxset and the 2008 Glitter and Doom tour and subsequent live album, it hardly seems like Waits was relaxing exactly. But it's also not the first time that Waits has taken an extended hiatus from releasing new work. There were large gaps between 1987's Franks Wild Years and 1992's Bone Machine and between 1993's The Black Rider and 1999's Mule Variations. Considering the incredibly quality of the releases that emerged from those breaks, it doesn't seem like a bad thing. 2004's Real Gone had its high points, but at times seemed like a Waitsian caricature of himself. Bone-like percussion and howling, with rasping vocals that never let up, made the entire album a somewhat tedious listen.
Leave it to Waits' long time writing partner and wife, Kathleen Brennan, to set him in the right direction. Bad As Me, Waits' 17th album of original material, was, at Brennan's insistence, purposefully crafted to hit with material of a shorter length. And indeed, no song on the album clocks in longer than four minutes and twenty-six seconds. This works tremendously to the album's advantage making it one of the most compact, varied and enjoyable Waits records since Bone Machine.
Opener "Chicago" sounds as if it picks up where Real Gone left off with its manic, Morse code horns and guitar replicating the Windy City's rush and el-track splendor. But "Talking At The Same Time" evokes Bone Machine in its spooky, falsetto vocals. "Pay Me" sounds like the winsome German cabaret of Franks Wild Years and "Back In The Crowd" is note unlike a lost Orbison crooner. But possibly the most surprising aspect of Bad As Me are the songs that outright rock. "Get Lost" is a classic carpe diem road song complete with horn shuffle and hot guitar solo. "Satisfied," which Waits called "an answer to [the Rolling Stones'] 'Satisfaction'," in an interview with Pitchfork, calls out Keith Richards, who also plays on the on the album, and Mick Jagger in its lyrics. ("Well, Mr. Jagger and Mr. Richards / I will scratch where I've been itchin' / before I'm gone…I will have satisfaction.") And the cacophonous "Hell Broke Luce" is every thing its title promises.
There's the feel that a lot of Bad As Me serves to hit spots along Waits' career arc – something we've seen before in albums like Mule Variations – but they usually don't stray pre-Swordfishtrombones in doing so. That's what makes one of the album's best songs, the darkly romantic "Kiss Me," such a stand out. It's a song that would've felt right at home on 1978's Blue Valentine. But this isn't a song that sounds like trying to revive something long past; this is 2000's Waits – lo-fi, static-laden and sounding like it was left out in the rain. It's truly gorgeous and maybe the perfect example of how seeking shorter arrangements benefited the output of Bad As Me. It is a notable triumph from an artist who has never failed to provide yet another act in the engrossing, ongoing play of his career. words/ j neas
Only the good shit. Aquarium Drunkard is powered by our patrons. Keep the servers humming and help us continue doing it by pledging your support via our Patreon page.