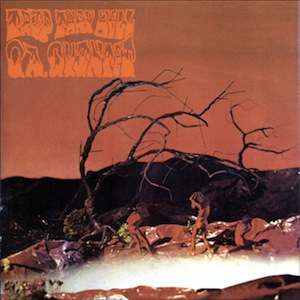 One of the most unique, unheralded albums of the 60s, the C.A. Quintet's Trip Thru Hell was a small indie pressing of under 500 from the Candy Floss label, making it a very rare 1968/1969 release. Originals will set you back a pretty penny, but for the die hard may be worth it considering the CD version does not faithfully recreate the back side of the LP.
Prior to Trip Thru Hell, the Minneapolis-based C.A. Quintet had released a few respectable, though restrained, garage rock singles. Then something tweaked in the mind of Ken Erwin, the mastermind behind the Quintet, and the band's frat rock would become infused with a dark, weird edge. The Trip came housed in a classic, striking jacket and was a truly original acid concept album chronicling the hells of earth. It's an album that takes you into another world, another mind, and there are some deep, lysergic excursions to behold. The title track is a 9-minute instrumental with a prominent bass groove, demented guitar distortions, angelic and eerie background vocals, shimmering organ and a surprisingly effective phased drum solo. The track may not sound as demonic as its title implies, but it was unlike anything recorded before or since, and certainly worth the trip. "Cold Spider" has Ken Erwin screaming his lungs out over some nice whacked out raga leads and Hendrix-style feedback. They bust out the brass for "Colorado," "Sleepy Hollow Lane," "Smooth As Silk," "Trip Thru Hell (Part 2)" and "Underground Music," which are dark oddities and compelling highlights.
Definitely an acquired taste, Trip Thru Hell is pure psychedelia with a strong vision by an enigmatic band that was, for a moment, full of life before fading into obscurity by the end of the 60s. A 2-disc vinyl reissue, with a full LP's worth of bonus material, is available from Sundazed. words/ j nardelli

MP3: C.A. Quintet :: Trip Thru Hell

Only the good shit. Aquarium Drunkard is powered by our patrons. Keep the servers humming and help us continue doing it by pledging your support via our Patreon page.