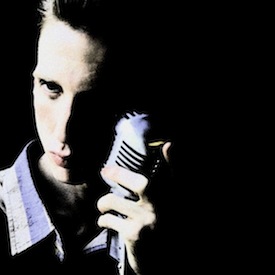 Clarity. This is the central theme that becomes immediately apparent on Parallax, the third Atlas Sound long-player. Here, Bradford Cox's distinctive echoed voice is cleaner, more familiar, like he's hovering right above you. There's a lot of space between his vocal melodies and the rest of the clamor. It's a natural phenomenon/progression: artists attempting to move closer to their audience with each subsequent release, shedding the noise, the expectations and the distractions, in an attempt to convey an emotional presence that is honest and real, lyrically, rather than assuming fans will take the time to do the investigating. It's a hit-or-miss prospect — so many bands screw it up — but not with Atlas Sound, and definitely not on Parallax.
"The Shakes" and "Amplifiers" invite us inside, sounding like tunes from the Deerhunter bullpen with their own beaming guitar progressions and catchy melodies. By the time Cox finishes his first verse on "Te Amo" the link between Atlas Sound and his role in Deerhunter fades, and you have a pretty good idea where this album is going. "Modern Aquatic Nightsongs" overlaps warped, modulated guitars with two completely different sets of vocal tracks. At one point you get the feeling that it's a bit too much, but I think what Cox is really doing is messing around with the conventions of layering and texture, traditionally done with guitars and sampling techniques, both of which he does very, very well.
The record continues to get even better as it progresses. "Mona Lisa" is a gorgeous slice of George Harrison pop. Brittle, shiny acoustic guitars and playful piano lines dance. It's the song I wish Spoon would've written like five years ago. "Doldrums" is a return to Bradford's atmospheric obsessions — tinkering with guitar effects and processors so they sound more like happy accidents than handmade electronics. "My Angel is Broken" comes across like a sluttier version of "Mona Lisa." There's a sharp attitude expressed from the Richie Valens guitar riff to Bradford's Las Vegas lounge croon, "The older you get you'll see, you'll be a lot like…me." The song is kind of maudlin, actually, but musically it's so perfect that you probably won't notice.
I usually get caught up studying the fragility that Cox conveys when he's singing; how he accentuates particular words but not others, on Parallax I'm far from that, mostly because his range of vocal styles is noticeably wider. And apart from being a fantastic and much more straightforward listen than his previous albums, Parallax balances Bradford's focus on experimentation and atmosphere with stronger songwriting, and by "stronger" I mean superior ("Nightworks," the album's closing track, is yet another solid example). This is also the first Atlas Sound record where the term "accessible" totally fits. It's the kind of album that so many artists are desperate to make. However, Bradford Cox never sounds like he's actually trying, he's just evolving. words/ s mcdonald
MP3: Atlas Sound :: Terra Incognita
MP3: Atlas Sound :: Te Amo
_____________________________________________________________________________________