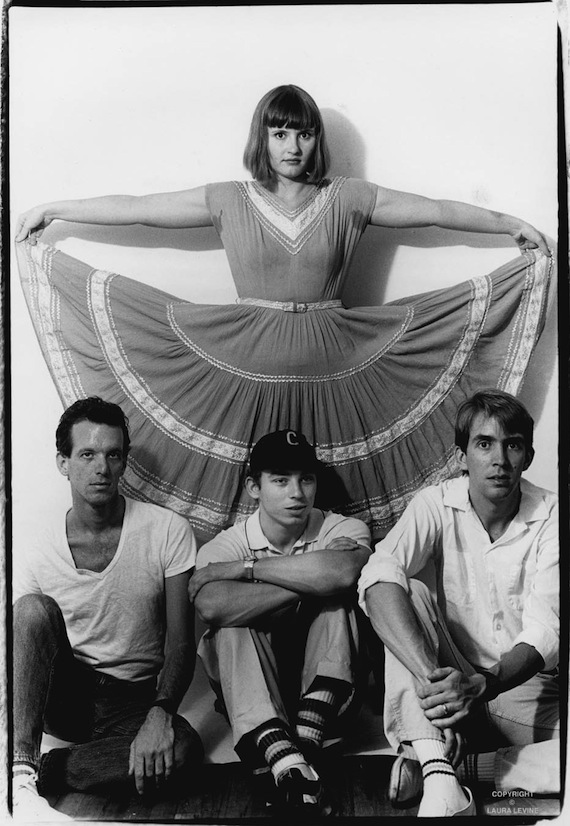 I played this cover the other night while DJing the Real Estate show here in LA. As the crowd was (mostly) early-mid twenties I was not surprised when a number of folks inquired as to the song's origin (Bradford Cox's voice and vocal tics are immediately recognizable to the converted). What did surprise me were the blank looks I received when they learned it was a Pylon cover (Pylon?), especially in light of the recent DFA reissues. In hindsight it shouldn't have been a surprise — this being a classic textbook case of an artist/band/whatever looming larger in one's own mind than in that of the greater collective consciousness. But for me, growing up in Atlanta, Pylon was — while obviously nowhere near as big as fellow Athenians the B-52's or R.E.M. — a pretty significant, seminal, band in the worlds of post-punk and new wave. Like R.E.M.'s own Eponymous, Pylon's 1991 career retrospective, the snarkily entitled Hits, was a mainstay cassette in many a walkman at my high school.
Here Deerhunter pay a fitting tribute to their fellow Georgians while staying fairly true to the original's intent and arrangement. From its onset "Cool" is coated in Deerhunter familiarity with Pylon's Vanessa Briscoe Hay's vocals replaced with Bradford's signature oscillating push and pull. The results, sonically reminiscent to that of   Cryptograms-era Deerhunter, add an acute, yet understated, muscularity to the spider-y pop of the original.
For Heads, by heads. Aquarium Drunkard is powered by its patrons. Keep the servers humming and help us continue doing it by pledging your support via our Patreon page.