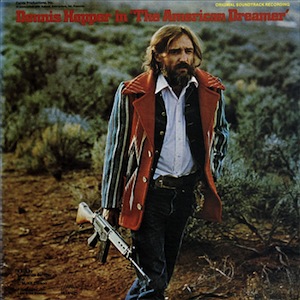 During the post-production of Dennis Hopper's surreal and unjustly-forgotten South American anti-imperialist western, The Last Movie (which would prove disastrous for his career upon release, yet go on to become a cult classic and one of Hopper's own proudest achievements), the actor and director was the subject of a sort of loose, biographical documentary, filmed around his Taos, New Mexico home as he wandered the desert, got wasted, and philosophized about life (see tag line: "I'd rather die fighting than die getting fat"). American Dreamer would share in the fate of The Last Movie and quickly disappear into obscurity, but among the film's remains lays a beautiful acoustic soundtrack, featuring original compositions courtesy of Hopper's personal acquaintances, such as John Buck Wilkin and Chris Sikelianos, as well as better-known performers such as Gene Clark and gonzo-mime-band The Hello People.
The album itself is relatively short, as are the individual tracks of which it is composed. Gene Clark's contributions may be the crown jewels of this collection, though they only consist of two pieces, each less than two minutes in length. His "Outlaw Song" is particularly powerful, a stark anthem of personal revolution against the "rational lines that all men draw." The following number, a hushed performance of the country blues standard "Easy Rider" by Chris Sikelianos, is majestic American folk music in the best Jack Elliott tradition. You can hear Hopper and others laughing and interacting with Sikelianos in the background, giving this one that grace of intimacy that is so hard to find in recorded music.
John Buck Wilkin was a friend of Kris Kristofferson's who was introduced to Hopper just prior to the filming of The Last Movie, in which he would appear and perform. He scores three songs here, which are basically hit-and-miss. "Screaming Metaphysical Blues" recounts the Last Movie expedition, and while it has some topical charm, it suffers from a case of weak songwriting. The driving "Look at Me, Mama" is much better, accompanied by some righteous picking and boasting a solid chorus. The record closes with a reading of Fred Neil's "The Other Side of This Life" by The Abbey Road Singers, which is not some long-haired religious choir as one might expect from the name, but rather a heavy acoustic rock-and-roll ensemble, with a singer who vaguely reminds me of John Kay, of Steppenwolf fame.
Like the film which birthed it, the soundtrack to American Dreamer has never been re-released on any modern format, but the record is definitely worth tracking down if you're into Gene Clark or even just eccentric American folk music. If you're lucky the vinyl also includes a pretty wild fold-out poster of Dennis Hopper toting a rifle and a joint that's almost worth the price of the album itself. Like they say, peace and love, right? n rayne
Gene Clark :: The American Dreamer
John Buck Wilkin :: Look At Me, Mama
_____________________________________________________________________________________