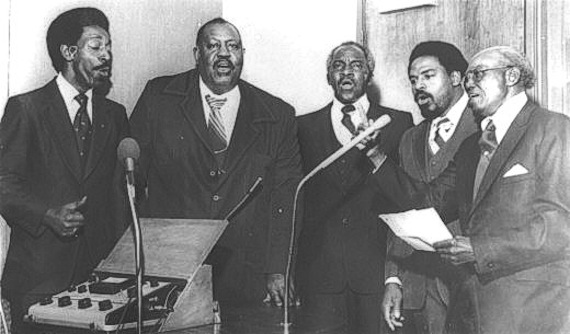 Earlier this month we caught up with  YETI publisher Mike McGonigal, the man behind one of our favorite compilations of the year — the Tompkins Square release This May Be My Last Time Singing:  Raw African-American Gospel on 45RPM, 1957-1982. A continuation of sorts to McGonigal's initial collaboration with the label, 2009's Fire In My Bones, the collection is a three-disc aural journey into the various corners of African-American gospel. Among other things, the below touches on YETI's beginnings, record hunting, tracking down source material and future reissue plans.
Aquarium Drunkard: How long have you been doing YETI now?
I started YETI around 2000. Now we do two issues a year plus publishing original books by the likes of Luc Sante and Erik Davis. I'd done a 'zine called Chemical Imbalance from 1984-1993; I started that when I was sixteen years old with money I made mowing lawns in the neighborhood. Within a few years it was getting an international distribution and each issue had a hard vinyl 7" record with unreleased music from the likes of Sonic Youth, Opal, Faust and the Mekons.
AD: How did the project initially get started.
Mike McGonigal: I started to work on YETI in 1999, a year after moving to Seattle to work as a music editor for Amazon. A co-worker helped fund it initially. I spent much of the 1990s as a low-level hack writer, scribbling wherever I could for ten cents a word and also supporting myself as a bookstore clerk, museum guard, bicycle burrito delivery boy and a grant writer for a non-profit arts organization. When I found myself at a "real" job, even though I was often working ten to eleven hours a day at the job, I found I still wanted to do my own fanzine. I really missed that curatorial thing, the satisfaction I got from putting together an entire issue of a magazine myself–just stuff that my friends and I were interested in, no other considerations aside from that.
YETI hasn't exactly taken off but there's steady interest, I guess you could say? Initially there were CDs in each issue. With the new YETI, #12, out next week, actually, we've returned to that format — each issue will now bt 8" by 8" and have a 7" single with each one (though I might do a full color issue with a DVD inside it as well). This 7" has the last unreleased Fred McDowell tracks from the initial recording session he had with Alan Lomax, and Grouper covering Dead Moon, and a killer cover of a Duane Eddy song done on a boom box in the early '90s by Tiki Men. It's a perfect little record I feel so honored to be able to release it!
AD: Has there been much of an overlap between the selections found on Fire In My Bones and  This May Be My Last Time Singing and previous YETI entries?
Mike McGonigal: Maybe one song was on a YETI comp before? Or two? But generally, no — pretty unrelated things.
AD: How did you originally hook up with the Tompkins Square label?
Mike McGonigal: In 2007, I compiled a record for Mississippi Records called Life Is A Problem; I came up with almost all the tracks but Eric at Mississippi did the track order and had the final say for it. Josh at Tompkins Square is someone I've been in touch with for years. I'd written about a number of his releases and such. He heard that record on Mississippi and said, "What is this stuff?," and I replied, "Ohhh, that's just the kind of music I listen to all the time; there's so much of it and other things similar." So he asked me to compile a record for him and it took the better part of a year to get it all together.
AD: In regard to the comp's tracklisting and execution, were they fully-formed before you hooked up with the label or were you hired on to produce them?
Mike McGonigal: These records, I put them together entirely myself. Some tracks would then not make the final cut because we couldn't license them from a label or get permission from a particular artist directly.
AD: Fire In My Bones struck a chord with listeners upon its release. Were you and the label anticipating a follow-up from the outset, or was This May Be… a response to Fire's reception?
Mike McGonigal: At first we spoke of it as a follow-up, and it is in some sense. But I was trying to do really different things with each record. The first one was looking at a lot of music that had been reissued previously but wasn't too well-known outside of a small circle, and saying "Look, gospel encompasses many different kinds of sound and texture, particularly this raw stuff that I like a lot maybe you would too?" The second compilation verges a lot closer to so-called gospel soul, and is narrower in many ways and is knowingly obscure. I do not like these records because they're obscure, at all — but as they are not well-known, and have amazing music on them, I wanted people to hear it. I was really frustrated with the quality of a lot of the releases others have done of black gospel from the late 1960s into the 1970s, with the exception of the killer stuff that Bruce Watson has done with Big Legal Mess — the reissues of Designer, Pitch and Gusman stuff is all crucial.
AD: You're a digger. Did you happen upon any sources that yielded unexpected bounty per the selections?
Mike McGonigal: Where did I find the most records? I found a lot of them in record stores in Detroit, Memphis and Chicago. And many of them I got online, on eBay and the like. I'd either pay way too little or get bid crazy super-high on the things. It's crazy how expensive some gospel records are these days, though I might be partly to blame for that myself.
AD: In regard to licensing the material, in terms of the history of recorded music, you're dealing with some very old recordings. What is your process in terms of tracking down the artists featured on the compilations?
Mike McGonigal: On the first record, a lot of tracks were licensed from the people who own the rights to various labels. For the second compilation, we've hunted down a lot of the original artists themselves.
AD: Have you run into many dead ends where an estate, or relative, could not be found?
Mike McGonigal: Ohh yes, totally. There are great records that had to be left off — for now, anyway!
AD: Any plans for a third volume?
Mike McGonigal:  Honestly, I don't think so. I feel like doing much more focused reissues now — of Detroit gospel or Jamaican gospel. These weird, mood-oriented compilations, those will mostly be done for Mississippi Records. I have an LP and a 10" in the works with them right now.
What I'm really excited about and will do with Tompkins Square is a fully licensed Nashboro compilation, of this just killer golden age gospel music released on the Nashville, TN-based independent label that stretched back to the early 1950s and went on into the 1980s. It will blow a lot of people away, just how truly solidly mind-blowing this music was. I'm working on that with Kevin Nutt, the great gospel archivist who has the "Sinners Crossroads" radio program on WFMU and the CaseQuarter record label.
MP3: Prophet G. Lusk :: The Devil's Trying To Steal My Joy
MP3: Sam Williams :: He Will Fix It