(Volume eight of Clifton's Corner. Every other week on the blog Clifton Weaver, aka DJ Soft Touch, shares some of his favorite spins, old and new, in the worlds of soul, r&b, funk, psych and beyond. — AD)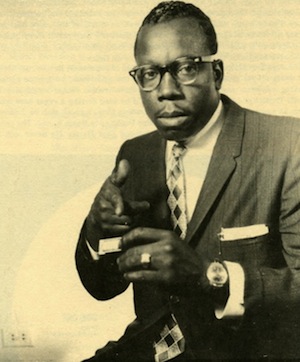 When I was compiling the British R&B edition of Clifton's Corner and tracing songs back to the originals, I was reminded of my first love – Blues. These days, I rarely get to indulge my love of the blues. To most ears, its archaic. Few blues songs are dance club floor fillers. So, I neglected it for a while. After the death of Hubert Sumlin (Howlin' Wolf's longtime guitarist), I began, in earnest, to delve back into it. Willie Dixon once stated, "The blues are the roots and the other musics are the fruits. It's better keeping the roots alive, because it means better fruits from now on. The blues are the roots of all American music. As long as American music survives, so will the blues." In this installment, I'm tending to the roots, so to speak.
MP3: Mississippi Fred McDowell :: Shake 'Em On Down – Although chronologically 'newer' than some of the other songs in this post (it was recorded in 1964), "Shake 'Em On Down" is in the style of one of the blues' earliest incarnations. The acoustic-based, Mississippi delta blues established the template that later electrified Chicago bluesmen would use. Obscure in his lifetime, Fred McDowell did manage to make a substantial impact. He was a mentor to Bonnie Raitt and his composition "You Gotta Move" was made famous by the Rolling Stones on their Sticky Fingers LP. This particular song is based on traditional lyrics and was previously recorded by Bukka White (B.B. King's cousin).
MP3: Howlin' Wolf :: Shake For Me – Not much needs to be said about Howlin' Wolf. One of the titans of the Chicago blues scene, he was already a start when he arrived in the city thanks to his Sun Records recordings produced by the legendary Sam Phillips. For me, this song has a great deal of personal significance. As I said earlier, one of my reasons for this topic was the passing of Wolf's guitarist, Hubert Sumlin. Sumlin's tone and phrasing was unique and influential. The solo contained in this song was one of the first that I was able to work out on my own. I still get as excited listening to it today as I did the first time I heard it.
MP3: Muddy Waters :: Still A Fool – On "Still A Fool," Muddy Waters (Chicago's other blues titan) reworks his earlier hit song 'Rolling Stone' with questionable rhythmic assistance from Leonard Chess on the bass drum. However, it's this very off-kilter (some would say, off time) drumming that makes this song so appealing. Fortunately, it was recorded before click tracks, pro-tools, and recording engineers more concerned with technical perfection over the feel of a song.
MP3:  Ike Turner :: She Made My Blood Run Cold – Stylistically, this song, by the infamous Ike Turner, lies on the border of Blues and R&B. Most famous for his career with and tumultuous marriage to Tina Turner, Ike's greatest accomplishments are overshadowed by his personal chaos. As a talent scout and A&R man, Turner was responsible for kickstarting the careers of musicians such as Howlin' Wolf and B.B. King. As a bandleader and musician, he played on seminal recordings by Otis Rush, Elmore James, and released what is considered to be the first rock n' roll song ("Rocket 88"). Here, Ike shows off the vocal and guitar prowess that made him such an in demand and respected musician.
MP3:  Sonny Boy Williamson :: Help Me – Blues gave rise to R&B and R&B gave rise to soul. By the mid 60s, Blues musicians were beginning to incorporate the influence of their musical offspring. This is most apparent in the three songs beginning with 'Help Me'. The second blues harmonica player to use the name Sonny Boy Williamson, Alex 'Rice' Miller started as the host of The King Biscuit Time show on KFFA in Helena, Arkansas before moving to West Memphis with his band and moving in with his brother-in-law, Howlin' Wolf. Soon, Williamson had a recording career. Along with Little Walter, Sonny Boy Williamson is one of the most influential harmonica players in the genre. One of the most unique features of his music is that he wrote almost all of his own songs and during his time at Chess and Checker, he didn't really rely on material from Willie Dixon. Even more striking, his lyrics (often bizarre and surreal) do not rely on the traditional lyrics that many artists/writers (including Dixon) used. With "Help Me," Sonny Boy Williamson lifts the main riff from Booker T & MGs 'Green Onions' and marries it to his lyrical plea for companionship.
MP3: Slim Harpo :: Te-Ni-Nee-Ni-Nu – A blues triple threat, Slim Harpo was an accomplished harmonica player, guitarist, and singer. His recordings of "I'm A King Bee," "Got Love If You Want It," "Baby, Scratch My Back" and others became the foundation of the British blues boom. Here on "Te-Ni-Nee-Ni-Nu," Slim Harpo adopts the then current soul rhythm and creates one of the funkiest and most danceable blues songs I know of.
MP3:  Albert King :: Oh, Pretty Woman – While Sonny Boy Williamson lifted Booker T. & The MGs riffs, Albert King was backed by the legendary Stax musicians on his song "Oh, Pretty Woman." At home in either Blues, Soul, or Funk sets, "Oh, Pretty Woman" features his distinctive guitar soloing set to a Memphis beat. Eric Clapton was so impressed with the solo that he lifted it, note for note, for his solo in Cream's "Strange Brew."
MP3:  Johnny Winter :: Leaving Blues – Anyone that's followed these  Clifton's Corner segments will have figured out that I love tracing the origins of my favorite songs and influences on artists. When I was a kid, my favorite group was Led Zeppelin and the four CD boxed set had just come out. On it was the previously unreleased song "Travellin' Riverside Blues."   Although it was said to be a cover of the Robert Johnson song of the same name, a brief comparison of the two made that claim easy to dismiss. After hearing from other fans, I discovered that Led Zeppelin's song was a pastiche of traditional blues lyrics and the music of Johnny Winter's "Leavin' Blues" (itself a lyrical pastiche). After a few years of searching, I found a copy in St. Louis in the mid-90s. A Huey Meaux production (Sir Douglas Quintet "She's About A Mover"), this song and the accompanying LP (First Winter) feature amazing blues playing with a pop-rock gloss to it.
MP3: Hound Dog Taylor :: See Me In The Evening – With all the hype around The Black Keys and their new record LP, I can't help but think of the man responsible for all of the bass-less blues based bands. The Jon Spencer Blues Explosion, The White Stripes, and most definitely, the Black Keys, owe a debt to the six fingered genius of Hound Dog Taylor. With a set up comprised of two guitars and drums, he turned out some of the rawest blues ever committed to tape. Country blues in its form, the sound is 100% urban. Overdriven amps, pawn shop guitars, and a heavy back beat were the essential ingredients to Hound Dog Taylor's formula. If this don't move you, you've got a hole in your soul.