"There's a sound on that recording, a vocalized So! right between the ninety-ninth and one-hundredth seconds: the Wailers, have just sung, "remember he is young, and he will live long." And then someone – you can't tell who – makes this noise. Intones, rather. It doesn't seem to come from inside the studio – doesn't belong, that is, to the texture of the session; it emanates from miles away and has arrived through an open window. Somewhere in the interior of Jamaica a goat herder with a staff has leaned back and loosed this sound into a valley, intending it for no ears but Jah's. Soooo! – the vowel fading quickly without an echo, pure life force. Was that Bunny doing that?"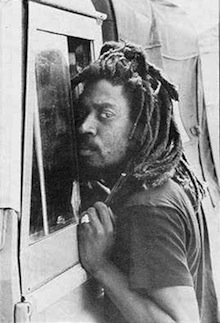 The above quote is a slightly abridged transcription culled from The Last Wailer, an essay found in John Jeremiah Sullivan's recent collection, Pulphead. A regular contributor to New York Magazine, the Paris Review, Oxford American (and others), this – his second book – is comprised of 14 re-published pieces Sullivan had penned over the past decade touching on subjects as disparate as Michael Jackson and Axl Rose to Native American cave drawings and the Gulf coast post-Katrina. And while I could get into the merits and witticisms of each, it's his piece on traveling to Jamaica – on assignment for GQ in search of Bunny Wailer – I want to highlight; specifically as an excuse to touch upon those ineffable moments in song that somehow inadvertently invoke the magic in recordings. And what exactly are these moments? Indefinable really, but in my own experience they have ranged from happy accidents (busted amps/tape hiss) to inspired improvisation and ambient, 'off screen' vocals/noises/etc.
It's a seemingly 'off screen' vocal on the Wailers "Let Him Go" that Sullivan addresses, something he finds to be inorganic to the session proper but instead emanating out of the ether from somewhere "else." Reading this I immediately identified. I was reminded of R.E.M.'s "Perfect Circle" – off the band's debut, Murmur, an album that's been in my life for the better part of 23 years (just did the math, wow). As the song begins to fade out at the 3:10 mark and draw its last breaths, I used to swear I heard – ok, still do – what sounded like my mom calling my name ("Justin) as a kid to come in for dinner from playing outside. I've since isolated that second-long ghost blip dozens of times on vinyl, cassette, CD and now mp3. Ostensibly random to the track itself (it sounds like the haphazard insertion of an aborted vocal take snippet), it continues to haunt my consumption and interpretation of the song. And that intrigues me – how from the same source material we each adsorb and infer information in our own way. But back to Pulphead…
Further along in Sullivan's piece we learn that upon his playing "Let Him Go" for Bunny that the last Wailer was, indeed, the author of the mysterious "So!" "Bunny slapped his chest. 'That's me, mon!' As if he were disappointed in me for asking. Pulling back quickly, he pointed his finger in the air–like "Aha!"–and shouted, Sooo!" But I have to wonder, for Sullivan – mystery solved – did this heighten the song's experience for him, knowing it was in fact Bunny, or did it pull the curtain back too far? When it comes to art, and life, there's something to be said for a little mystery…a little magic.
Hit us up in the comments with your own ineffable/indefinable 'moments' in song.
Related: If you're feeling irie after reading that, both the Bomboclat! Island Soak :: A Reggae/Dub Mixtape and Bomboclat! Island Soak 2 :: A Rocksteady Mixtape are still live and available for download.