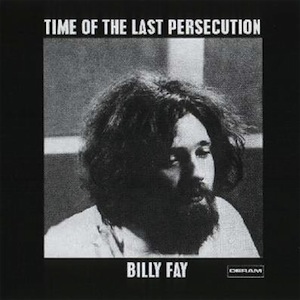 Bill Fay is a name that has crept back into the underground consciousness in recent years due to some unexpected word-of-mouth publicity culminating in a series of commendable reissues of the artist's work. Going into Time of the Last Persecution, however, I was unaware of such recent windfalls.
Initially I was a bit uncertain as to Fay's songwriting, which is quite strong in exploring the author's religious ideologies, but that hurdle was quickly cleared. The truth is that Fay does not preach or praise so much as pray for understanding and salvation; here is the same tortured spirituality that haunts such landmark recordings as Satan Is Real or Dave Bixby's Ode To Quetzlcoatl. For example, if it were not for the cracked desperation in Fay's voice, a line like "Satan is in the garden shed, he'd like to screw you all" might come off as ridiculous. As it stands, however, it is both surreal and terrifying. Fay invokes all sorts of twisted black imagery here, from mental collapse to ecological disaster and chemical warfare. The music is a dynamic tapestry of melancholy piano tracks and heavy psychedelic guitars, often exploding into free-jazz inspired chaos as in the incredible title track. Guitarist Ray Russell is sure to blow your mind over the course of Persecution, capable of shifting between savory Nashville accents and volatile Sharrockian squalls. Horn players Tony Roberts, Nick Evans and Bud Parkes help to underscore the occasional free aspects here — this is the kind of jazz-rock fusion I've always hoped to hear. Mahavishnu, eat your heart out.
Most of the time, however, the sound of The Last Persecution is closer to Ernie Graham's equally underrated self-titled record in that it blends elements of British folk-rock with imported American weariness. Alan Rushton and Daryl Runswick make for a crisp rhythm section whose propensity for laid-back grooves is not too far removed from Rick Danko and Levon Helm's work in The Band. Runswick's melodic playing on "Dust Filled Room" is particularly strong, though I'm surprised to find that his own artistic background actually extends the record's free-jazz connections: he has spent time with Ornette Coleman, of all people. Which is all to say that these are some serious musicians, and even if you have trouble latching onto Fay's songwriting or reedy voice there's an entire world of delicacies to be tried within the music. Just take a listen to the frenzied coda to "Release Is In the Eye," with Russell painting lightning all up and down his fretboard as the rhythm section latches on to a droning freight-train pattern.
Time of the Last Persecution is a unique and heartfelt statement of a man searching through the darkness and while it may not be easy listening, its grooves are full of rewards for the dedicated listener. As Fay himself writes in the reissue's liner notes, "I worry to an extent about its 'heaviness' circulating out there in a small way, but at the same time I feel there's maybe something of a therapeutic release in some of the intensity of the music," which is about as fitting a description as I could ever think to assign. words/ n rayne
MP3: Bill Fay :: Release Is in the Eye
MP3: Bill Fay :: Time of the Last Persecution
Only the good shit. Aquarium Drunkard is powered by our patrons. Keep the servers humming and help us continue doing it by pledging your support via our Patreon page.