(Volume nine of Clifton's Corner. Every other week on the blog Clifton Weaver, aka DJ Soft Touch, shares some of his favorite spins, old and new, in the worlds of soul, r&b, funk, psych and beyond. — AD)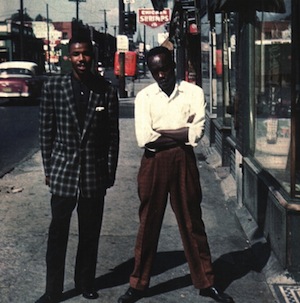 What's commonly considered to be "blues" tends to be pretty cliche'd. Unfortunately, the forces of commerce and mass media have really obscured the richness and variety of the genre. In the last Clifton's Corner (Blues Heaven, Pt. 1), I touched on some of my favorite songs. With this installment, I hope to show how varied the genre really is and still play some of my favorites; from country blues (itself a varied genre) to west side Chicago electric blues and all points in between (minus the Blueshammer variety).
MP3: Otis Rush :: All Your Love (I Miss Loving) – An oft overlooked and criminally underrated musician, Otis Rush, along with Buddy Guy and Magic Sam, was one of the founders of the west side Chicago style of blues guitar. Combining the single note style of players like B.B. King and T-Bone Walker with jazzy arrangements, the raw emotion of the earlier delta influenced players (e.g. Muddy Waters), and youthful energy, these players took over from the older cats and set the tone for blues over the next couple of decades. This song comes from Otis Rush's highly influential recordings for Cobra Recordings. Backed by Ike Turner and his band, Rush merged a calypso rhythm to his urban blues and influenced Eric Clapton (w/ Mayall and The Bluesbreakers, Clapton covered this), Peter Green (Fleetwood Mac's 'Black Magic Woman' took its cue from this song and in turn influenced Santana and their Latin/blues hybrid), the Beatles (notice the similarity to 'I Want You [She's So Heavy]'?) and many more.
MP3:
Little Junior Parker :: Mystery Train
– Enough can't be said about Memphis and its importance to blues (and American music, in general). Easily as important as the Mississippi delta, Memphis is responsible for Sun Records, Hi Records, and Stax Records. Country, blues, rockabilly, rock n' roll, & soul music can all claim the city as a spiritual home. Here we have the original 'Mystery Train'. Probably better known by Elvis' version, the original by Junior Parker is a great example of the beginnings of the "Memphis sound" (i.e. simultaneously 'uptown' and 'downtown') with its urbane shuffle beat, near dissonant piano chording, and countryfied guitar licks.
MP3:
Sleepy John Estes ::  Milk Cow Blues
– Going back in time a bit but still in Tennessee, we have Sleepy John Estes' "Milk Cow Blues". Bearing little resemblance to other blues songs with the same title, Estes' song is a great example of the diversity of what was/is considered blues. With his characteristic lazy vocal delivery and heavy guitar strumming, Sleepy John Estes' style was unique even country blues players. His musical partner, Yank Rachell, contributed even more regional flavor (i.e. bluegrass) with his mandolin runs.
MP3:
Mississippi John Hurt :: Ain't No Tellin'
– More of a songster in the Leadbelly tradition than a bluesman, Mississippi John Hurt nonetheless contributed greatly to the form. Pioneering a fast, alternating bass style of fingerpicking set against dance rhythms, Hurt was a big influence on the Grateful Dead, Bob Dylan, Nick Drake, and many others. As with other country blues artists, Hurt's style was indicative of his region in Mississippi. "Ain't No Tellin'" showcases his unique fingerpicking while at the same time maintaining the traditional 12 bar blues form.
MP3:
The Johnny Otis Show :: Country Girl
– Johnny Otis life IS the history of African American music. With a career that stretched back into the 1940s, Johnny Otis was a major player in the development of  big band swing music, r&b in the 50s, soul in the 60s, and funk in the 70s. He discovered major artists such as the aforementioned Etta James, promoted the music on his own TV and radio shows, and sired one of the greatest musicians ever, his son Shuggie Otis. I could devote a whole post to Johnny Otis (and Etta James as well) and maybe I will soon. For now, I'll let the music do the talking. 'Country Girl' is one of those songs that show the crossover from blues/r&b to soul (and later funk). With Delmar Evans on vocals and Shuggie on guitar, Johnny Otis took the riff from Lowell Fulsom's 'Tramp' and created a monster of a blues-funk tune. R.I.P.
I also want to say R.I.P. to the legendary Jimmy Castor, who passed away in the same week as Johnny Otis and Etta James. I'll definitely be paying tribute to him soon too.