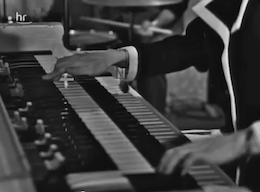 Just like last time, today's Videodrome is a clip from a German TV show. Specifically, the show Beat! Beat! Beat! No, not the Beat Club… but the show did have a Shindig/Bandstand style "variety" format where mostly U.K. and American rock bands would play a few songs to smiling, bopping teenagers. I caught this video of Cherry Wainer and Don Storer when our friends the deep-digging East Village Radio DJ collective Chances With Wolves threw it up on their Facebook page.
Wainer and Storer were the Beat! Beat! Beat! house band: road tested and endlessly entertaining. The duo performed instrumental numbers between the headlining acts–a who's who of rockers that included the Jimi Hendrix Experience, The Kinks, The Small Faces, Eric Burdon, as well as bands like The Monks. There are many top-notch videos on YouTube from the show that feature Cherry Wainer & Don Storer–high quality footage that showcases the duo's visually striking and extremely physical performances. Both the drumming and the organ playing require so much bodily movement that the Wainer & Storer instrumental cuts necessitate the visual component to fully appreciate the music.
The two-piece ensemble has a raw, intimate feel that modern day TV show house bands don't really go for… Even with a song that's as oft-covered and hackneyed as the "Peter Gunn Theme," the music is still fresh and exciting, imbued with an intensity that completely captivates. And that's what they were there to do–keep the energy flowing while the featured bands changed over.
Can you honestly break eye contact with Cherry Wainer at 2:05? No way. And how could that Peter Gunn melody hit harder than when the drums hit ten beats in unison with the organ? Spellbinding.
For a bonus selection, try the duo backing up jazz singer Ernestine Anderson doing a bluesy rendition of the Art Blakely/Bobby Timmons tune "Moanin." words/ a spoto