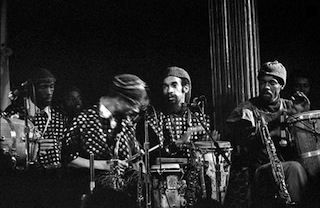 2012 has been a brutal year for those of us who love soul, jazz, funk and related music. In a short span of time, we've lost Jimmy Castor, Johnny Otis, Etta James and Don Cornelius (apologies to anyone I've overlooked). As tributes from musicians, DJs, writers, etc pour in (and deservedly so); it's refreshing to see legends honored while they're here to appreciate it. Which brings me to "Homage". A new series of events in downtown Los Angeles curated and promoted by Edgar Varela Fine Arts & Art Don't Sleep, "Homage" pays tribute the great, often unsung, musicians and also newer acts that will surely be listed among the greats.
The first of these events featured vibes genius Roy Ayers paired with Beat Junkies turntablist J. Rocc with an opening set from Flying Lotus associate Thundercat. On Thursday, February 23rd, the series continues pairing two bonafide legends with the cream of the crop of younger acts; Sun Ra Arkestra trumpeter Phil Cohran and Delfonics founder/songwriter/vocalist William Hart with the Hypnotic Brass Ensemble and Venice Dawn.

William Hart's groundbreaking work with The Delfonic's should need no introduction. With songs like "La La (Means I Love You)" and "Ready Or Not Here I Come (Can't Hide From Love)", written by Hart and producer Thom Bell, the Delfonics laid the foundation for the Philly soul sound and recorded songs that will live on through endless covers and samples. One of the signatures of Delfonics releases was a big, orchestrated sound. It's fitting then that William Hart should be backed by the cinematic soul of Venice Dawn. The latest project from Adrian Younge, composer/arranger/producer/performer of the score to the film Black Dynamite, Venice Dawn's sound encompasses a mix of psychedelic soul, Morricone influenced instrumentals and hip hop aesthetics. Currently, Hart and Venice Dawn are working together on an upcoming release.
MP3: Delfonics :: Ready Or Not (Can't Hide From Love)
MP3: Delfonics :: Without You
MP3: Venice Dawn :: Anna May
MP3: Venice Dawn :: Turn Down The Sound
Kelan (meaning 'holy scripture') Phil Cohran is a name that might not be familiar to many but his contribution to music has been immense. Known for his work as a trumpeter with Sun Ra's Arkestra, his own Artistic Heritage Ensemble, and as a founder of the AACM, Cohran sought to create something more than just music for entertainment. An embrace of the concepts of sound of the ancients, his spiritual jazz (for lack of a better term) is contemplative and simultaneously electrifying.
The perfect complement to the music of their father Phil Cohran, Chicago's Hypnotic Brass Ensemble's music is similarly electrifying.   According to a press release for this show, "From an early age they were a central part of their  father's Youth Ensemble. By the end of the nineties, with everyone out of school, they brought together their musicianship, their jazz roots and their hip hop sensibility, and made a living busking on the streets of Chicago. They came up with their name after an incident on the El: playing on the platform, a man in a suit watched them for hours, missing train after train until in the end he approached them and said, 'You guys just hypnotized me.'"
Rounding out the lineup for the night are two well known DJ/tastemakers — DJ Spinna and the Europes Lefto. Known here in LA for his Prince vs Michael Jackson party and his 'Wonderful' tribute to Stevie Wonder, New York's DJ Spinna has been worked for artists such as George Michael and Mary J Blige as well as Motown Records. Based in Belgium, Lefto's sets are best described as eclectic; incorporating hip hop, funk, South American, and African influences. In the lounge of the Exchange, local tastemakers/DJs Anthony Valadez (KCRW), Expo (Motown On Mondays, Root Down Soundsystem), Seano, and Rani D will be spinning sets throughout the night. words/ c weaver