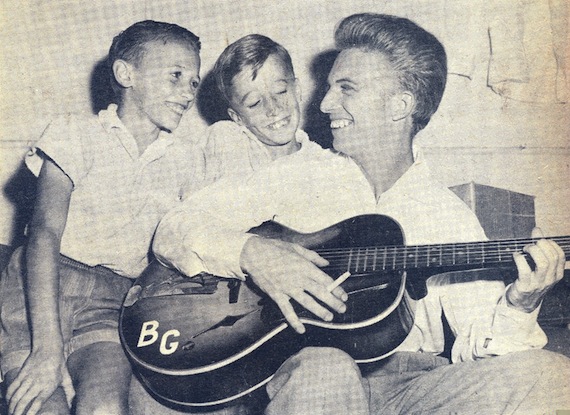 Diversions, a recurring feature on Aquarium Drunkard, catches up with our favorite artists as they wax on subjects other than recording and performing. This week: Roadside Graves' John Gleason takes on the often misunderstood world of the Bee Gees; a group whose larger catalog and career has long been overshadowed due to their role as pop-culture figurehead of the late seventies Disco movement. Gleason, in his own words, below.
"Townes van Zandt is the best songwriter in the whole world and I'll stand on Bob Dylan's coffee table in my cowboy boots and say that." Steve Earle famously said that.
If I had my way I'd fashion something similar about the Bee Gees and the Beatles but I'm not as quotable as Steve and my intention is not to fill up the comments section with irate Beatles fans. Yet, there have been many parties (actually more like many a bar) in which I have proclaimed sincerely that the Bee Gees are better than the Beatles. In doing so I have begun many passionate and dynamic conversations/arguments with strangers, friends, and bartenders. The truth is that I firmly believe that music can be universally qualified as good or bad by critics and listeners by certain criteria but regardless of the specifics of how you are judging music or how many stars or numbers you deem appropriate all that truly matters is how the listener feels and responds to the music when no one is around. When the headphones are on and the judgements aren't so severe, when the windows of the car are up, or when you are safe among friends what are you listening to? I would agree with anyone that the Beatles produced both influential and quality music, yet for some reason which I will poorly attempt to explain I instinctively prefer the Bee Gees.

This is in no way an attempt to justify the disco-era Bee Gees. The Disco era is what most casual listeners think of when they hear the words Bee and Gees (an assumption well tested). I imagine Disco is something you either love or hate and any praise here won't change that much, although I do highly recommend the Disco badass-ness of Tragedy (both the song and the Metal Bee Gees tribute band).
Personally I have always been attracted to the underdog and the underrated which could alone justify my adoration for the Bee Gees but its so much deeper than that and my fascination increases each year. It's surely a combination of many factors and not limited to; the brothers harmonizing, Robin's odd warble and intense verging-on-Muppet style voice, Barry's perfect hair, the balance of ballads and psych-pop, the insane and odd lyrics that at times add up to complete nonsense, the orchestration among the the stomps, and the ability to write damn fine songs worthy enough for the varied likes of Nina Simone, Low, Faith No More, the Animals to recognize and cover. It's hard to argue with songs like "To Love Somebody" and "I Started a Joke."
Still I remember seeing 70's footage of a bulldozer crushing a pile of disco records marking the hatred and end of a genre and with it the band that embraced disco was then dramatically ignored and considered pure cheese. Bee Gee's earlier records like Bee Gee's 1st, Idea, and Horizon are genuinely great and interesting 60's pop records but let's consider delving deeper into their catalog specifically the odder and mostly ignored records during the period of 1969-1972.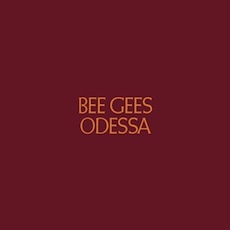 Odessa, their sixth record and most ambitious endeavor was so over the top that the double vinyl included red velvet and gold lettering that needed to eventually be replaced due to the record plant workers having allergic reactions (Wikipedia!). Odessa seems like it was birthed as a concept record but upon closer listens one gets the sense that any good song written during the period must have been deemed worthwhile. I can find no other explanation how an awesome country song ("Marley Purt Drive") about an overflowing orphanage relates to a song about Thomas Edison. Yet for all it's excessiveness in design, length, and genres Odessa is a genuine success, thoroughly enjoyable, amusingly weird and well balanced art pop music. The title song "Odessa (City on the Black Sea)" is a record and statement onto itself. Brimming over the 7 minute mark the song starts with an odd narrative providing a time and history while also citing nursery rhymes about sheep and includes lyrics like "Treasure, you know the neighbors that live next door. They haven't got their dog anymore." Which I could suppose are reasons someone might not want to listen to this record, but I consider this the Bee Gee's finest song and took me from casual admirer (see ABBA) to complete obsessive collector (ala Fleetwood Mac). Odessa belongs in every music junkie's collection right beside other lovingly long and worshiped records like TUSK and London Calling.
MP3: The Bee Gees :: Odessa (City On The Black Sea)
2 Years On, their 8th record and possibly most coherent is an easy Bee Gees gateway drug. Simply play "Lonely Days" (see video) for a nonbeliever. The song accurately captures everything that the Bee Gees do well. My personal favorite is "The 1st Mistake I've Ever Made" which includes sorrow drenched vocals and lyrics like "I was born to a lonely women in a town called Buffalo. Never knew the man who never stayed."
To Whom it May Concern, their 10th record and one I admit to wrongly ignoring for my first few years of Bee Gee diving simply because the cover sucked – It looks as if this may be another live record or some Australian only import collection of unrelated tracks. I was playing cards in a cabin near Saranac Lake, NY and it was our long lost friend Ed's turn to choose the music. (This would be the last time I saw him alive so this record is important on many levels personally.) He threw on To Whom it May Concern and it sounded like most other Bee Gees records until the fourth track "Paper Mache, Cabbages, and Kings." Now, this could be the worst, most interesting and nonsensical Bee Gees song ever. It sounds at times like a circus on Halloween night then switches into a typical power vocal Gibb brother chorus then breaks into a loose jazz jam and prior to dissolving ends with an anthemic foot stomping Springsteen chant, "Jimmy had a bomb and the bomb went bang. Jimmy was everywhere." (Which we lovingly stole for the end of our live version of "Ruby").
MP3: The Bee Gees :: Paper Mache, Cabbage, and Kings
Trafalgar, their 9th record is filled with superb Bee Gees ballads like "How Can You Mend a Broken Heart" and "Don't Wanna Live Inside Myself" and is easily one of the most likable records of this odd period, but it's "Lion in Winter" that will break and bring you down to the Gibb's feet cursing yourself for waiting so long to accept their warm embrace. "Lion in Winter" is Bee Gees at their most badass lyrically referencing James Brown, stripping down to at times just a simple steady drum beat, and staging Robin for his most epic and passionate screaming as the orchestra slides and the bass glides. It's a song for beautiful dudes fighting in a bar wearing long fur coats and ship captain hats.
MP3: The Bee Gees :: Lion In Winter
The Bee Gees are worth obsessing about and have such a varied and extensive record catalog that I hope you may reconsider them and find something worthwhile. Take them home for a night. There's something for everyone. They are fascinating. Barry is stunningly beautiful. Robin is persuasive. Maurice is their brother. I get nothing out of this, other than trying to make new friends who may want to hang out and listen to Odessa with me tonight it its entirety.