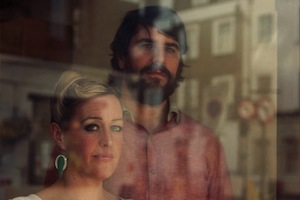 It's been said that, "Hidden treasures bear the greatest riches" and in my opinion, this quote is more applicable than ever. On the surface, it looks like there is a dearth of quality music. The charts have never been more vapid and TV contests have reduced musical art to a game show. But fear not, dear readers, all is not lost. For those willing to dig deeper, there is a treasure trove of great music being produced and released right now.
A while back I wrote about the song "Look Around The Corner" by Quantic & Alice Russell with the Combo Barbaro and since then, I've been privileged to hear the entire album of the same name. In fact, I haven't stopped listening. Soulful pop, a la The 5th Dimension, with the Latin backing of the Combo Barbaro, and topped with Alice Russell's flawless vocals is an instantly addicting aural combination. As well as the excellent "Look Around The Corner," other stand out tracks are a cover of Caston & Majors "I'll Keep My Light In My Window," a Latin re-imagining of Pentangle's "Traveling Song," and the Motown-ish "Magdalena." Not only is the record stunning but Quantic, Alice Russell, et al can deliver live. Two one-take performances on YouTube demonstrate the live prowess of these musicians.
Another exceptional artist, just outside of the mainstream, is Robert Glasper. Part of a new vanguard of jazz musicians, the pianist and record producer has just released his fourth LP, Black Radio, on the revived Blue Note label. I'm relatively new to his music and only became aware of him through internet buzz over his cover of Nirvana's "Smell Like Teen Spirit."   Intrigued, I watched his performance on Letterman. Joined by Lupe Fiasco and Bilal, Glasper proved that America's classical music was still very much alive. Despite the efforts of some musicians to codify (calcify?) the form and keep it frozen in time, Robert Glasper has brought the music into the 21st century and made it relevant to the hip-hop generation.

Perhaps the best way to get a sense of the Robert Glasper Experiment is to hear him in his own words. This EPK gives insight into his latest release and the collaborative process behind it.
Incredibly, both Quantic & Alice Russell with the Combo Barbaro and The Robert Glasper Experiment will be performing live in downtown L.A. with a host of amazing special guests. A show of this caliber is a must see. For anyone concerned with the state of music, the best way to improve the situation is to support quality artistic experiences. The pop pap that currently dominates the charts only does so because it makes money for the labels. We can turn it around by buying records from our favorite artists and most importantly, supporting them live. This concert will be the stuff of legend one day. words/ c weaver
Thursday, March 22, 2012 (8pm – 2am): EVFA & ArtDontSleep present: The Robert Glasper Experiment feat Bilal & KING & Quantic & Alice Russell
618 S. Spring Street, LA, CA – Tickets: Here