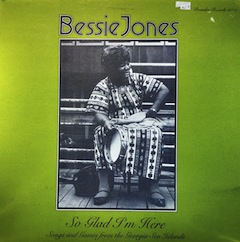 "How do you like your blue eyed boy, Mr. Death?" read the E.E. Cummings quote that tattooed Harry Crews' right bicep. I suppose he got his answer. Crews died last week; for those of us who followed his work it's quite a loss. National obits have alternately likened the 'literary outlaw' to Bukowski and Hunter S. Thompson, but those are loose, at best, comparisons. If you grew up in the South, or have a feeling for the region, you appreciate Crews surgical gift for tapping into its guts – the good, bad and the ugly. His prose hardboiled; true grit in spades.
The news of Crews passing coincided with the announcement that the archives of folklorist Alan Lomax are set to be released online, for free. The width and breadth of the project is staggering: "The Sound Recordings catalog comprises over 17,400 digital audio files, beginning with Lomax's first recordings onto (newly invented) tape in 1946 and tracing his career into the 1990s." A musical anthropologist, Lomax's tireless documentation of the rural South cannot be overstated. And while his efforts capturing blues musicians may be his most noteworthy accomplishment within the region, Lomax documented all strains of regional music – including gospel.
Which brings us to the Gullah gospel of the Bessie Jones LP, So Glad I'm Here: Songs and Games from the Georgia Sea Islands – a recording I was recently hipped to via Ghost Capital and has been haunting my stereo ever since. Born in 1902, Jones learned song traditions through her father, an Africa-born  former slave. In 1959 during a trip down south, Alan Lomax caught up with Jones and the Georgia Sea Island Singers, later documenting what he heard in 1961. Fast-forward a decade and we have So Glad I'm Here – recorded live by Bruce Kaplan & Bill Nowlin in July of 1973 at the St Simons Island Church of God in Christ, in Georgia. For those unfamiliar with coastal Georgia and South Carolina, the islands are notable as they have retained many of the African traditions passed down from one generation to the next. It's these traditions, especially the rhythms and time signatures, that give Jones music its unique presence. Like Crews' prose, this music is a form of storytelling born out of the South – the is region embedded in its very DNA.
Sidenote: Bessie Jones, who died in 1984, reached her largest audience posthumously via Moby. In 1999 her song "Sometimes" was heavily sampled on "Honey" found on Moby's album, Play.