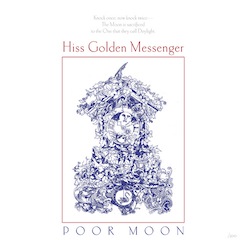 Sometimes things begin with a phone call, or a name that you've heard on a few separate occasions, or something half-remembered you may have scribbled in a notebook. At least that's how it began for me with Hiss Golden Messenger, the project of one M.C. Taylor, whose tunes came to hypnotize me this past winter.
I didn't know much about Taylor, and I've tried to keep it that way. His songs were so beautiful and mysterious I didn't want to know anything else about them. Like John Fahey's  Blind Joe Death, they seemed to come from a different era, pulled out of the dust. As it turns out, Taylor is something of a folklorist, himself, and Fahey hovers over him just like he's transfixed anyone who's interested in the American musical past.
Taylor's recordings from his 2009 album Bad Debt are dark and distant, like a ghost from Robert Johnson's single microphone Dallas hotel room recording session in 1937. Just a voice and an acoustic guitar–his right strumming hand coming up hard on the offbeat like the snare drum in a country-rock song. Stories of sin and redemption–or, in Taylor's own words, stories "about my God: That is, whether I have one, and whether there is a place for me in this world."
Bad Debt was originally released on the tiny Black Maps label. The more-produced Poor Moon, featuring a few of the same songs with fuller arrangements, was issued last year on the equally obscure Bachelors of Paradise label. Poor Moon is set for a larger release by Tompkins Square on April 17th, a label that specializes mostly in archival recordings and instrumental music, though they too seem to have also fallen under the spell of Taylor's songs.

On the war story, "Super Blue (Two Days Clean),"  Taylor tells of going on a bender in Birmingham: "Two days clean I'm feeling mean so let's go out tonight/Super-blue crescent moon gonna lose my mind, oh no." On "Straw Man Red Sun River Gold,"  which ostensibly to take place in a Civil War-era America, Taylor is yet another lost traveler: "I left home when I was just a kid/ To be the gallant rider that my father was." Yet the road is long. "Just outside this town, oh lord, I had a breakdown,"  he later confides. "That's the closest that I've come to going home"– and by "home,"   here, he likely means heaven–or hell.
These are melodies and stories straight out of the same Appalachian hills that gave birth to Gaither Carlton and Clarence Ashley. Find me something more American than that. words/ d inman
MP3: Hiss Golden Messenger :: Super Blue (To Days Clean)
MP3: Hiss Golden Messenger :: Straw Man Red Sun River Gold