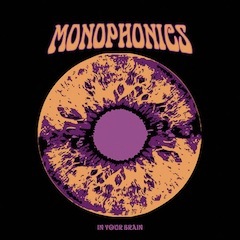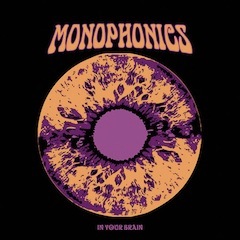 For the past decade, 'retro soul' sounds have been somewhat of a touchstone for artists and audiences looking for musical authenticity. As a fan of vintage R&B, soul, funk, etc, it's been great to see/hear new artists create new music with a sound that I hold so dear. At the same time, it's been a bit worrying. How long could this trend last? Will groups just continue to recreate vintage sounds and eventually devolve into bad Motown pastiches or will those sounds be a springboard (hopefully) to something new that embraces yet transcends its influences?
In Your Brain
by The Monophonics answers those questions for me. Fortunately, it's the latter and the answer is a resounding 'YES!'
Mining a similar vein as early Funkadelic and
Frankie Beverly's Raw Soul
, fuzzed out psychedelic guitar riffs collide with heavy funk beats and are topped off with spacey echoes. However, the album is much more than just a collection of genre melding sounds solid songwriting is the core of this collection. It's this focus on the song craft that keeps '
In Your Brain
' from falling into the category of "bad pastiche". Three songs that stick out in my mind are the dubby and timely R&B of "
There's A Riot Going On
" (think Lee Perry meets Screamin' Jay Hawkins), the psych-funk of "
All Together Now
" (featuring Orgone's Fanny Franklin), and their epic version of Sonny Bono's
"Bang Bang (My Baby Shot Me Down)"
.
Sonically, In Your Brain sounds like a dream band featuring Dennis Coffey, the Funk Brothers, & Dr. John recording at Black Ark studios. However, this record is much more than just a culmination of sonic influences. The writing at the heart of the LP helps make this something completely original as well as something rooted in the past. I once read a Robert Wyatt quote about Paul Weller that I think is applicable. To paraphrase it, the Monophonics, like master carpenters, have created new furniture from seasoned wood. 'In Your Brain' by the Monophonics will be released by Ubiquity Records on May 15th. words/ c weaver